Here's What's Hot in Carpeting for Today's Homes
Let's face it: when the look and feel of the carpeting is off, the whole room seems off, no matter how on-point the furniture, walls, lighting fixtures, and other elements may be. While this applies mostly to wall-to-wall carpeting, it also goes for large, movable pieces like area rugs. For a cohesive, stylish space, everything in it should complement each other well, and, as a room's foundation, carpeting can especially make or break a room. That's why, when it comes time to get new carpeting for your home, the kind you choose is so crucial.
In essence, it all starts from the bottom up. Get the carpeting right, and everything else becomes that much easier to get right moving forward. Not to mention that it's much simpler to rearrange or replace other aspects of a room than it is to switch out the carpet once it's down.
Although there is a seemingly limitless number of carpeting options out there, what can help make your job a tad less complicated is to go with some of the modern carpet trends in home design. No, choosing what's hot right now isn't always a must, and it may not be right for you and your tastes, but when it comes to style, trends exist for a reason — it's what many people consider to be the most aesthetically pleasing today and will most likely earn you the praise of house visitors.
And just because you go with a trendy look or material, that doesn't mean you can't make it your own with your own unique combination of features — from different textures, colors, and patterns to finishing touches such as binding and nail head accessories.
If you're putting carpeting in a brand-new home or replacing old carpet in your current one, and you want to go with something modern and fashionable, consider these top carpet trends:
Keeping It Simple
Typically based on a neutral or monochromatic color palette, minimalism is all about simplicity. While never fully out of style in the design world, minimalism has seen a resurgence lately in carpeting, with many people preferring its unfettered elegance, clean lines, and warm, soft decor, sprinkled with selective decorative accents of color, pattern, and texture.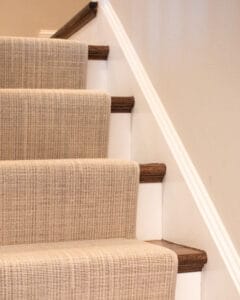 Visually appealing while favoring more functional and essential elements, minimalist wall-to-wall carpeting, rugs, and runners won't compete for attention with other patterns and colors in the room. Great for both contemporary and traditional settings, neutral carpeting colors like beige, cream, or gray along with simple shapes and designs tend to offer greater flexibility and staying power than carpet featuring bold colors or complex patterns.
A minimalist look makes it easier to layer rugs over it, combine plains and subtle patterns, and keep a steady flow throughout the house. Because it tends to create a sense of calm, minimalism is popular for rooms more suited toward kicking back and relaxing such as living rooms and bedrooms.
Getting Back to Nature
One of the more popular and enduring carpet trends in recent years is a return to nature, not only in look and feel but also the materials used. Thankfully, the wide variety of natural carpet styles available gives each homeowner the ability to find one that's just right for them.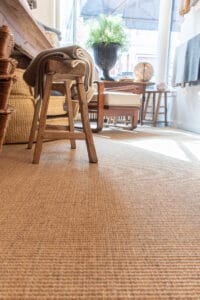 The majority of today's carpet tends to lean heavily on synthetic materials such as nylon or polyester, but natural fiber carpets rely mostly on natural, renewable ones including sisal, seagrass, jute, wool, bamboo, and organic cotton.
The move toward sustainability and a more environmentally-conscious approach to purchases is likely the biggest reason for the increase of natural-fiber carpets in the home. For those who prioritize using resources responsibly and adopting behavior that has a more positive impact on both present and future generations, natural-fiber carpet is a great choice. However, that's not where the benefits of going natural stop.
Stripped down, earthy neutrals and hues such as olive greens, corals, rusts, and clays help create an approachable and warm atmosphere. Aside from their eco-friendly properties, natural fiber carpets are cherished for their lavish textures and natural weave. While each specific natural fiber carries its own unique characteristics, natural carpets are typically hardwearing, versatile, available in a vast array of weaves and natural shades, and naturally soft to walk upon. Meanwhile, the irregularities in some natural-fiber carpets actually add to the unique appearance.
Relatively easy to clean, able to retain its fluffiness, and offering a luxurious feel, wool is hands-down the most popular natural fiber for carpet. Some, like jute, are easier to manage while some, like bamboo, need greater care as they can stain more easily compared to synthetics and other natural fibers.
Adding Personality With Textures & Patterns
Despite the trend toward simplicity and neutral colors, there's also been an increase in the use of patterns and textures throughout the home, which isn't in opposition to minimalism as much as it is a complement to it.
Featuring fibers of varying heights and thicknesses, raised patterns and woven textures add depth, subtle character, and greater visual interest compared to non-textured options.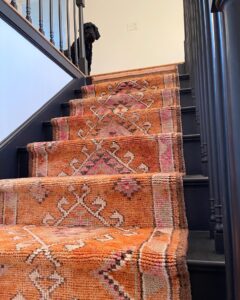 Often made of soft materials like wool and created through a combination of cut and loop, textured carpet offers a more cozy, luxurious feel and creates a unique, three-dimensional look that hides blemishes well.
Instead of incorporating more personality through your upholstery and curtains, a beautifully patterned carpet can do the trick when wanting to make a chic statement. Ranging from low-key to intricate, patterned carpet offers a nice change of pace from more plain carpet styles.
Rolling Out the Runners & Rugs
As hardwood flooring continues to be a popular (yet pricier) choice among alternative flooring options, runners and rugs have grown in demand as a great way to accent the wood, protect the floor from wear and tear, and provide a safer surface to walk on, especially in high traffic areas like family rooms, hallways, and stairways. Instead of covering the floor fully with carpet, runners and rugs let you inject additional color, pattern, and comfort into the space, adding a dimension of warmth and elegance. Furthermore, they help curb the sound of footsteps upon the hard floor.
Runners and rugs not only work well on wood but also on top of wall-to-wall carpeting, although, for stair runners, wood is the preferable flooring beneath. Whether in color, texture, or pattern, runners and rugs should work as contrast with the flooring beneath it. Stair runners allow you to add a touch of flair to your stairs while guarding against dangerous slips and falls that can occur on the sleeker surface.With over 30 years of carpeting experience, the experts at The Carpet Workroom will work with you to find just the right carpeting for your space, whether it's trendy or something more suited to your unique style.
From fabrication to installation, you can trust us with all your carpeting needs. Get a custom quote, visit one of our showrooms, or shop online today!