Add a Natural Fiber Rug to your Home
Did you know you can make a positive impact on the environment by choosing a natural fiber carpet?
Natural fiber materials are increasing in popularity for homeowners seeking a carpet material that is both sustainable and stylish. Many homeowners are integrating eco-friendly materials into their home's aesthetic, and a great way to do so is with an all-natural carpet!
What are Natural Fibers?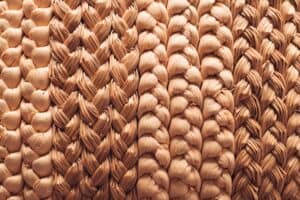 Natural Fibers are materials derived directly from natural plant materials without the use of any synthetics. Many carpet styles in the market tend to use artificial materials, but natural fiber carpets have begun to appear in more homes.
While each specific natural fiber carries its own unique characteristics, you can still expect to achieve a stylish look. Aside from its eco-friendly properties, natural fiber carpets are cherished for their lavish textures and bona fide natural weave.
Here are some the most common natural fibers you can find at The Carpet Workroom:
Wool is derived from the fur of sheep that is later processed and put together to create one of the most luxurious and elegant fibers you can come across in carpeting. Environmental responsibility aside, it is also one of the longest lasting and most resilient types of carpet you can install in your home. Compared to the other natural materials, wool is also one of the softest options to consider,given that it's not plant based.

Undyed wools are priced very similarly to nylons and provide a natural alternative for your home. Most manufacturers save their most decorative designs and unique colors for their wool lines making these materials not only pleasing to the touch but also the eye.

Sisal fibers are harvested sustainably by hand from the leaves of a specific cactus plant. Sisal is recognized as stronger and even more durable than other natural materials, which is why it's also commonly used for rope and twine. Due to its strong and stiff structure, do not expect sisal to be among the softest options available. However, sisal carpets remain one of the most popular natural fibers carpets thanks to its variety of different geometric patterns and styles that are available to choose from.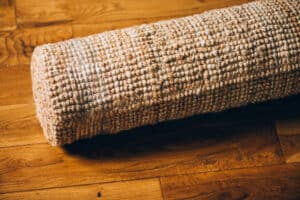 Jute is a thick, natural fiber that comes from the stalks of the Corchorus plant which grow in the rainy climates of India and Bangladesh. The stalks of the plant are harvested, bundled and soaked in water for a certain number of days to soften up the material. This makes it easier for the fibers to be separated and dried out, and later constructed into a beautiful carpet. Jute often is compared to cotton because of its feel, however, it's certainly more durable and resilient to wear and tear. If other natural fibers are not within your budget, you will find that jute is one of the most affordable natural fiber options you can find in carpeting.

Seagrass
This non-porous fiber is a tropical grass, which is smooth to the touch and has a natural shine to it. As a water plant, this is one of the most water and stain resistant fibers of the bunch, guaranteeing a carpet that can handle many external elements. However, it's important you act quick when dealing with an issue as the material can only protect from damage to a certain extent. Compared to other natural fibers, this is the best material to place in busy areas such as hallways, entrances or any areas with heavy foot traffic.
Hemp
Hemp is a variety of the Cannabis Sativa plant species that is used globally for more than 10,000 years. Many industries, like the carpet industry, have invested in hemp to create a wide variety of industrial and consumer products. Hemp became a useful resource for manufacturing paper, clothing, biodegradable plastics, paint, food and biofuel. Hemp also is favored for its durable properties, which make it a great option for those seeking a long-lasting carpet.

Don't Get Too Comfortable, Natural Fibers Require Extra Care!
While natural fibers are a great addition to any given space, you must keep in mind that these fibers are super delicate and deserve an extra level of care!
It's important you keep your natural fiber carpet away from any liquids. That being said, we would recommend placing these carpets away from bathrooms, doorways and any areas that may expose your material to moisture. Liquids, including water, can instantly damage your natural fiber carpet, so think twice about where you're thinking of laying down this type of carpet.

As much as we try to avoid them, accidents are bound to happen. No matter what stain it is, we recommend you act quickly so the stain doesn't penetrate the carpet. Since natural fibers are extremely delicate, there's a chance some stains may cause permanent damage. However if you respond quickly enough, you may be able to save your carpet.
Natural fibers are also sensitive to many cleaning agents and solutions available on the market, so we advise you to stay away from commercial products when cleaning up your carpet material. Instead, grab a moist towel and gently blot away the mess. For more serious stains, it's best to call a professional carpet cleaner for a better assessment of how to manage the stain.
For more information on cleaning your carpet, check out our latest blog on carpet cleaning tips! You can also reach out to info@carpetworkroom.com to set up a professional cleaning to ensure your natural fiber carpet receives the proper cleaning and maintenance!

–
Ready to get started on a natural fiber carpet project? The Carpet Workroom has a wide collection of natural fiber carpets ready to be customized for your space! Make an appointment today or reach out to info@carpetworkroom.com to plan your next natural carpet style!