Accessorizing Your Stair Runner or Area Rug
If you are thinking of purchasing a stair runner or area rug you may want to consider ways to differentiate from the crowd. You've selected the material that works best in the space but you're worried that it's the most popular style, and the look has been done before. You may already know that you can select your own color and edge finishing but are you aware of all the different ways you can accessorize?
Accessorizing your stair runner or area rug can add a unique and personalized touch to your home decor. There are various ways to accessorize such as adding nailheads, stair rods, wide binding, borders, and serging yarn. One popular option is carpet binding, which is the process of attaching a strip of fabric to the edges of a rug or carpet to prevent fraying and add a finished look. All these accessories are design choices that a homeowner can make with the help from our experienced fabricators and design consultants. At this point, your imagination may be running wild thinking about which accessory to add, but by the time you finish reading this post, you will have it all figured out!
What is Carpet Binding?
Carpet binding is the process of enclosing the edges of a piece of carpet to prevent fraying or unraveling. It is done by attaching a strip of fabric or vinyl to the edge of the carpet using a ` machine or a heat-sealing process. This strip, called a binding tape or binding, is often made of the same material as the carpet.
Bound carpet is commonly used in areas with heavy foot traffic or in commercial settings, such as offices or hotels. It is typically done on the edges of carpets that are not going to be tucked under furniture or installed in a room with walls. Carpet binding can be done in two ways, either by using narrow cotton binding or wide binding.
Narrow Cotton Binding
Our standard and most common edge finishing is narrow cotton binding. It is typically the easiest to maintain and most economical. Although only a small portion of the binding shows on the face of the rug, it is just enough to do something fun and exciting. Most people choose binding that matches the color in the field so it fades in. However, some of our boldest clients will select a contrasting color to pop. No matter what color you select, this cotton band presents a continuous sleek look around the perimeter of your carpet or rug. At The Carpet Workroom, our fabricators use a binding machine that stitches the binding on to ensure years of durability.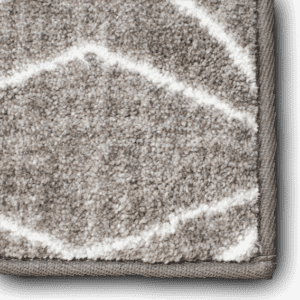 In one case we had a client whose home was located near the ocean and is decorated with other navy blue accessories. Because they didn't want to overwhelm the space with navy, they opted out of the all blue stair runner and instead selected a narrow cotton binding in a navy blue color. The contrast in the binding material pops against the light grey runner and wood floor. This helped tie in all the other interior details together. With the binding applied, it gave the stair runner a more tailored and elegant look.
Wide Binding
Another popular choice is wide binding. The benefit here is that you can create a border effect for your area rug or stair runner. Similar to narrow binding, there are a few choices in terms of color, fabric, and scale. Wide binding opens up a lot of other options to customize your project. You can choose from cotton, linen, leather, faux leather, and even chenille!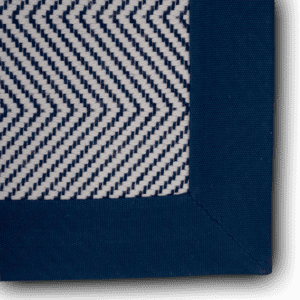 One recent project we had done on a large area rug featured custom leather piping on the inside and then a wide linen binding as the outside border. We created the inner piping using traditional wide leather then attached it to the wide linen binding to create the double border. It created a sharp dynamic look pulling out both the charcoal grey and classic blue from the field material. The final touch was the hand sewn miter on each of the 4 corners of the area rug. Projects like this require a lot of attention and detail in order to create the entire look.
Leather or faux leather borders are a unique and less common option – but ideal for those who prefer vegan materials. This option may be more challenging to work with and has a higher cost, but it is worth it for its aesthetic appeal and durability. Over time, the leather will develop a rich patina, making it the most long-lasting and durable option for finishing your area rug or runner.
Linen binding serves as another great durable option compared to the traditional cotton. Though the fabric has more of a bulkier texture, it can withstand a lot of traffic. Linen also holds colors for a longer period of time compared to other fabrics as well. If your carpet has a rich texture, linen is a great way to smooth out the edges.
What is Carpet Serging?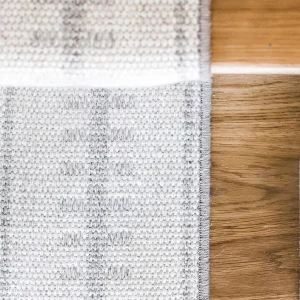 Serging is a more modern and trendy option that creates a hand-sewn look. This has quickly become our most popular finishing option! It is a cleaner and more efficient alternative to traditional hand-sewing. It does draw the eyes towards the edges because of the intricate details. Serging comes in a wide variety of colors, and with our new machine, we are now able to mix two or more colors together, so stayed tuned for more photos and information. It is also more affordable than binding and it is suitable for low-traffic areas. However, it may not be as durable as binding, especially in high-traffic areas.
What are Nail Heads used for?
Carpet nail heads are small, metallic fasteners that are used to add a decorative touch to the edges of a rug. Unlike other binding options, they are not sewn or attached to the rug in a traditional manner, they are pushed through the rug, which can prevent fraying from happening. They are typically applied to the edges of the rug using a hammer, and they are a great way to add can be used to prevent fraying of the rug. Our preferred vendor for this type of project is D'Kei, a trim company based out of Iowa. There are so many shapes, sizes and finishes to choose from that it's hard to achieve the same look as your neighbor. If you want something truly unique, nail heads may be the accessory for you!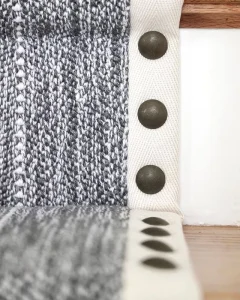 Now, you have learned several different types of carpet binding to choose from. Narrow cotton binding is the most common and easiest to maintain edge finishing option, while wide binding creates a border effect. Serging creates a hand-sewn look and it is more affordable, but it may not be as durable as binding. And adding nail heads is a great way to add a decorative touch to your rug.
With our proven approach, stair runners have never been this accessible or customizable. Ultimately, the choice between these binding options will depend on your personal preference, the overall look you want to achieve, the durability and maintenance of each option, and the cost. Adding accessories to your stair runners can make them unique, fun, and visually exciting!To read more about our custom fabrication, visit our custom carpet fabrication page! To see examples of rug finishes from our customers, visit our gallery page and click on "rug finishes."
_______________________________
Ready to get started on a project?
You can reach out to us at info@carpetworkroom.com and a project manager will help you get your project started!