The Falmouth Road Race, a cherished tradition on Cape Cod, provided the perfect backdrop for our mission. The atmosphere was electric, filled with a sense of accomplishment, unity, and a deep-rooted purpose. It was more than just a race; it was a day when the One Love Run Club came together to support each other and run for a bigger cause.
Stretching over seven miles of picturesque coastline, the Falmouth Road Race has a rich history of bringing together runners and communities for a common cause. Our team recognized the significance of this event, not just as a personal challenge, but as an opportunity to create lasting impact in the fight against cancer and creating a memory worth cherishing forever.
Our Mission and Dedication:
The One Love Run Club, founded by the Lovetere family, embodies a mission that transcends the boundaries of running a marathon. It's a mission to conquer the fear and anxiety brought on by cancer diagnoses, both past and present.
We take immense pride in sponsoring and representing the We Beat Cancer local charity, a noble initiative founded by the Gallahue Family in Canton, MA. We Beat Cancer collaborates with hospitals, cancer support groups, and foundations across New England, providing vital financial aid for parking, meals, transportation, and other essential support services.
This year, our collective efforts were dedicated to supporting Kieran Whall's journey to recovery. Kieran, diagnosed with B-Cell Acute Lymphoblastic Leukemia (BALL) at just 3.5 years old, embodies the resilience and courage of a young warrior. Today, he continues to fight bravely while undergoing treatment at Boston Children's Hospital. Every dollar donated played a pivotal role in alleviating the financial burdens and anxieties that Kieran and his family face throughout this arduous journey.
Additionally, the One Love Run Club proudly sponsors The Jimmy Fund's Team Tara. This team is on a relentless mission to raise funds for cancer research and amplify awareness of promising cancer cures. Tara's story is deeply personal to us, and her determination has been a beacon of inspiration. She embodies the spirit of resilience and hope that drives us forward in our mission.
Surpassing Expectations:
Thanks to the incredible support of our friends, family, clients, and generous donors, we not only met our initial fundraising goal but exceeded it in a remarkable way. Our final tally stood at an astonishing $11,655.95. This achievement speaks volumes about the incredible power of community and the unwavering dedication of our runners.
The impact of these donations cannot be overstated. They served as a source of inspiration and motivation for our team, giving us that boost to push our limits during the race. The funds raised will leave an enduring impact on the lives of those affected by cancer as they'll provide much-needed support, comfort, and hope to individuals and families navigating the challenging journey of cancer diagnosis and treatment.
While race day may now be behind us, the race against cancer is far from over. Cancer knows no boundaries, and its battle is relentless. Donations continue to make a significant difference in the lives of cancer patients and their families.
We invite you to extend your support by making donations to the various charities we proudly sponsor. Your generosity, no matter the amount, is a step towards making an impact:
Every contribution you make, no matter how modest, holds the potential to change lives, offer hope, and drive progress in the fight against cancer.
Race Day Highlights
Checkout the highlights as we captured the joy, determination, and unity on race day.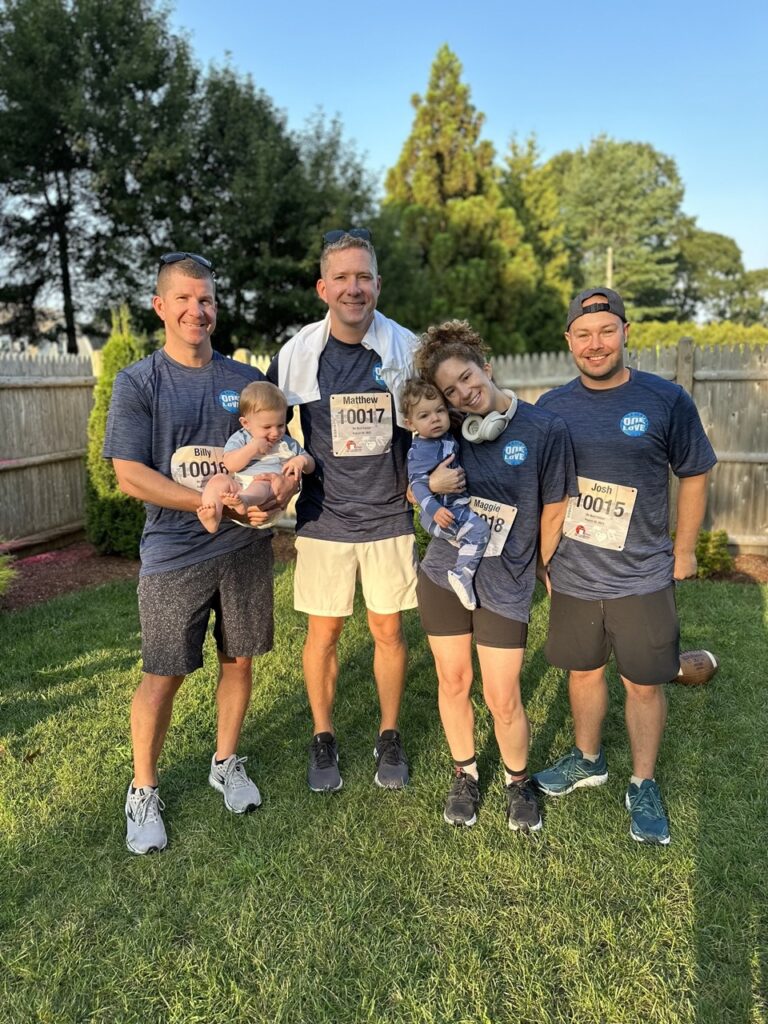 Closing Remarks
In closing, we want to express our deepest gratitude for your support, your donations, and your unwavering belief in our cause. The 2023 Falmouth Road Race was a day of triumph and giving, and it wouldn't have been possible without you.
We eagerly look forward to next year's race, where we can once again come together, run with purpose, and continue our mission to bring hope and healing to those battling cancer. Until then, thank you from the bottom of our hearts, and we wish you all love, health, and happiness!
Sincerely,
The One Love Run Club