'Tis the Season for Adding Autumn Accents to Your Floors
While a case can be made for spring or summer being the most picturesque, no season sparks the imaginations of style-minded homeowners and interior decorators quite like fall, with its rich colors and cozy weather as visual inspiration, especially in The Carpet Workroom's home of Boston. Sprucing up your home with fall decor is a great way to embrace the coziness of the season.
From leaf-embroidered throw pillows to pumpkin-scented candles, to spooky decorations, there's a ton of exciting yet simple ways to embrace autumn in your home, but to truly elevate your fall decor, it's best to start with your floor — after all, it's the fashion foundation of every room.
Among the most convenient and cost-effective design moves you can make, seasonal rugs and runners make the perfect accents for both hardwood flooring and wall-to-wall carpeting. The Carpet Workroom just so happens to offer a great variety of fall-friendly colors, textures, and designs. Plus, if you're also looking for new wall-to-wall carpeting or custom area rugs, now's a great time to upgrade and save with our Fall sale at https://nerugco.com!
When shopping for autumn rugs and runners, look for these key features which make them unique, fun, and perfect for your fall decor:
Dazzling Fall Hues
It's hard to argue with what Van Gogh once wrote: "As long as autumn lasts, I shall not have hands, canvas, and colors enough to paint the beautiful things I see." The most distinct difference between fall and other seasons is the rich, deep colors and warm-hued, earthy tones that its changing foliage offers.
This is the ideal time of year to consider your floor the canvas and your seasonal rugs and runners as the perfect color splashes Bob Ross would be proud of. You have a nearly countless assortment to choose from with nature's striking autumn palette of warm browns, fiery crimson, burnt oranges, deep golden yellows, luscious plums, and more.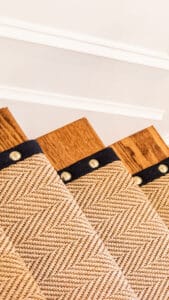 For enhanced visual warmth and intimacy, rusty red or calming saffron make a nice choice, while burgundies, creams, and golds add a touch of elegance. Fortunately, hardwoods and neutral wall-to-wall carpeting serve as the ideal backdrop for bursts of autumnal color! And if you don't necessarily want to go bold, warm organics and neutral options grays and tans make great rug and runner options.
Remember that you'll want to make sure that the colors you choose don't clash with the rest of your room. This gives you the perfect opportunity to go out shopping for just the right pillows, knick-knacks, curtains, and other room elements to complement your new rugs and runners.
Cozy Carpet Textures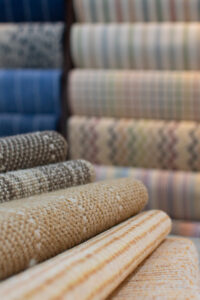 As the weather cools and the sun sets earlier, people end up spending more and more time inside "living, laughing, and loving" together, so it makes sense to put greater effort into making your home (and floors) as inviting and comfortable as possible. This is where comfy textures and materials work best to create a soft, warm look and feel for bare feet to travel over as winter approaches.
Fall decor often goes hand in hand with a more natural aesthetic, making sustainable, eco-friendly natural carpeting fibers like wool, jute, and sisal popular choices. Options like wool offer a luxurious touch and enhanced durability, while jute and sisal, though not as comfortable, match nicely with a rustic themed décor. Meanwhile, today's synthetic materials such as polypropylene, nylon, and polyester have given natural fibers a run for their money with their advances in comfort and strength.
High-pile, shaggy, and lush textures are popular for the fall due to their snuggle-up tactile and visual comfort. Also, another great way to add more texture, depth, and color to your floors is by layering area rugs one over the other.
Autumnal Motifs
Along with the myriad of foliage colors, the season offers plenty of other inspirational scenic, floral, and botanical inspiration for you to reflect in your rugs, including forest, pumpkin patch, and apple orchard scenes to maple leaf, acorn, and pinecone motifs. Many of these autumnal elements can be used as inspiration to lighten up your fall decor.
Like the colors you choose, the designs should complement and contrast the rest of your room (including the flooring beneath), rather than conflict with it. For instance, if the room is already busy with patterns and distinct styles, you may want to go with simple, less busy rug designs. Likewise, if the room is relatively neutral and bare stylistically, this is your chance to go with more bold and standout designs in your rugs and runners. Strong geometric patterns with dark autumnal colors are a great way to make a striking fall statement.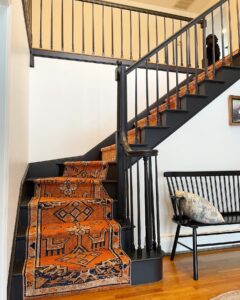 Offering a traditional and nostalgic touch, vintage and rustic designs are also great choices for the season. Valued for their age, craftsmanship, design, and even historical significance, vintage (and antique) rugs and runners are known for their intricate and unique designs. Featuring nature-inspired tones, simple patterns, and unrefined textures, rustic-style rugs make a charming addition for those seeking country-style aesthetics that are so popular in the fall.
Fall Floor Protection
While autumn can be a cozy, fun, and pretty time of year, it can also be a messy one for your floors with everyone tracking mud, grass, leaves, rain, and other elements of the season through the house. Plus, you never know when someone's going to spill their pumpkin spice latte, hot chocolate, or salsa and chips as they cheer on their favorite football team.
Add to that the increased foot traffic, and it makes a lot of sense to invest in area rugs and runners to protect your valuable carpeted or hardwood floors from wear and tear, especially in popular spaces like living rooms, hallways, dining rooms, and foyers.
Meanwhile, the more durable and stain-resistant the material, the better. Keep in mind that synthetic fibers such as nylon, polyester, and polypropylene (olefin) are typically more durable and easier to clean than natural fibers, although wool and other natural carpeting can also be maintained with quick and proper treatment.
————-
As seasons change, so should the energy and vibe in your home. But rather than making drastic changes, a few smart, intentional touches here and there can be all you need to make an eye-catching transition. From autumnal colors and motifs to cozy textures and floor protection, seasonal rugs and runners offer a great and simple way to accentuate your fall decor.
One of New England's most trusted names in carpeting solutions, The Carpet Workroom can help make your floors look and feel perfect for autumn and every other season, with all the materials, designs, and finishing touches you need — from traditional to contemporary.
Make an appointment to visit one of our showrooms or shop online from our wide selection of rugs and runners. Plus, if you're looking for new wall-to-wall carpeting, now's a great time to upgrade and save 25% with our ROLL SPECIALS!