Make Your New Home Truly Yours With Custom Rugs, Runners, & Wall-to-Wall Carpeting
If you're reading this, then it's probably safe to say: Congratulations on your new home!
It's been said that home is where the heart is, and if that rings true for you, ensuring that your new home is as comfortable and inviting as possible should be a top priority. After all, if anything deserves special attention, it's where you and your loved ones will live, gather, and grow together for years to come.
Likely one of the biggest purchases of your life, if not the biggest, a new home is a big decision which comes with many smaller yet still critical decisions, such as which furniture to buy and how to use each room. Whether it had a previous owner or you're the first, your new living quarters is a virtual blank canvas for you to transform into something that is truly yours.
The comfort, style, and atmosphere of each room is up to you, and while that may seem intimidating and overwhelming with all that's out there, it doesn't have to be — as long as you do your research and understand your choices. And it all starts from the bottom up.
Carpeting: The Foundation of Your Home's Decor
Before any of your furniture is brought in, your flooring is there, the anchor that sets the tone for each room. While some rooms such as bathrooms and kitchens demand hard floor solutions, most other rooms allow the choice between hard and soft flooring.
In this guide, we'll delve into the different types of soft flooring, or carpeting, you can get for your home, and help you choose which is best for you, to ensure long-lasting satisfaction.
Custom carpeting and rugs refer to carpeting material and patterns you choose which are then cut and finished, by expert craftsmen like The Carpet Workroom, to fit your unique space using your specifications.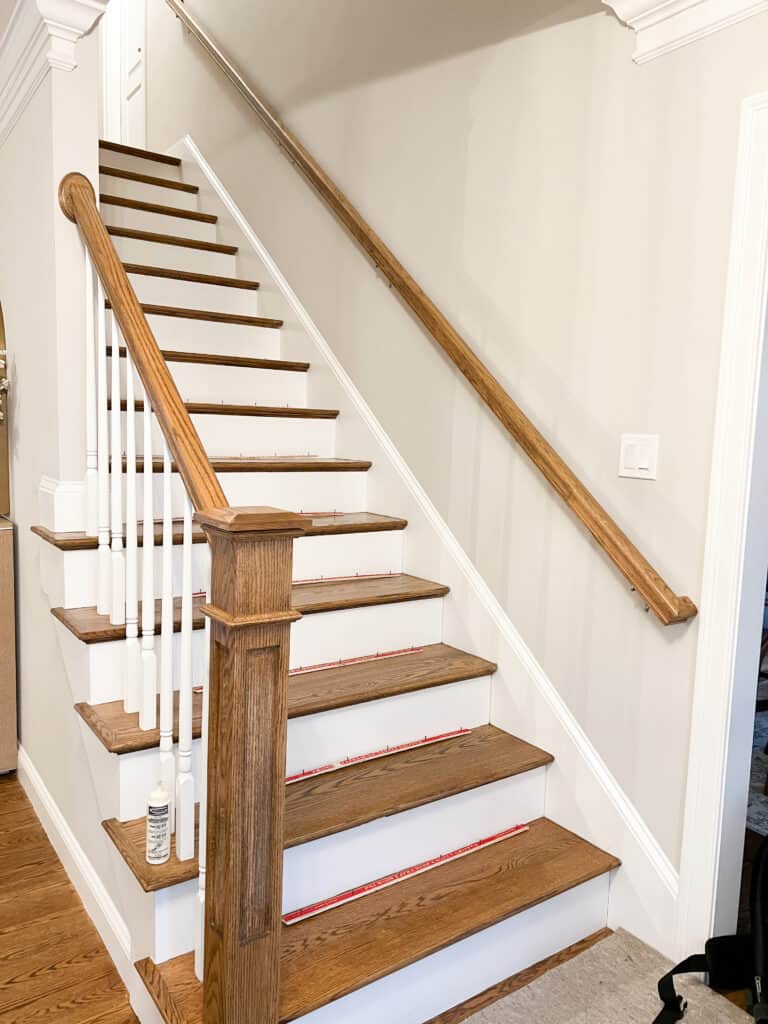 If it's a brand new home constructed for you, custom carpeting is one of the final touches you'll want to get just right. If it's an older home which already has carpeting, why replace it? Well, the thing about old carpeting is that you likely have no idea of what took place on these floors, whether it be pet accidents or large food/beverage spills. Even when it seems stain-free, there's a good chance that odors and bacteria still lurk deep in the fibers.
Furthermore, you have specific needs to consider when making these choices, whether you're bringing in your own pets or children, so you may wish to start with fresh carpeting that better fits your situation. Installing your carpet before you move in will save you from having to move furniture back and forth.
Carpet Look & Feel
Be it for an area rug or wall-to-wall carpeting, the type of material you choose goes a long way in establishing its look, feel, cost, and lifespan. There are a lot of choices when it comes to natural and synthetic carpeting material. Here's a breakdown of the most common types:
NOTE: Approximate pricing doesn't include padding and installation costs.
Wool Carpet
Featuring sustainable, extremely durable, and luxuriously soft organic fiber that's also stain-resistant and hypo-allergenic, wool is the ideal floor covering. Though one of the more expensive choices, wool rarely carries any sort of odor, like petroleum-based polys can with their VOC off-gassing. We recommend flat-weave wool carpet for pet owners. Some manufacturers combine wool with synthetic fibers to create the benefits of both.
Lifespan (if properly maintained): 10-15 years / Typical cost per square foot: $5-$20
Other Natural Carpet
Offering a real-grass look and feel, natural-fiber carpeting like sisal and jute is more durable, doesn't require vacuuming, and allows for shoe wearing, but it also requires specialty cleaning. It is mostly used for area rugs and rarely used for wall-to-wall carpeting.
Lifespan (if properly maintained): 5-15 years / Typical cost per square foot: $5-$15
Man-Made Fibers
Nylon Carpet
The most popular, versatile, and durable man-made material used in carpeting, nylon is a synthetic polymer that's softer yet more expensive compared to other "polys." Featuring good resistance to wear, mold, mildew, and rot, it's also easy to dye and holds its color well.
Lifespan (if properly maintained): 12-15 years / Typical cost per square foot: $2-$10
Other Poly Carpet
Among the alternatives to nylon, polypropylene (or olefin) is softer but polyester is more water-resistant, fade-resistant, and heat-resistant to things like sunlight and dryers. P.E.T. (polyethylene terephthalate) is a polyester option produced from recycled soft-drink bottles. Reliably stain-resistant, these polys are typically more affordable yet less durable, matting down quicker than higher-quality choices.
Lifespan (if properly maintained): 5-10 years / Typical cost per square foot: $2-$8
Carpeting Style
Carpeting styles come in a wide variety of colors and patterns including geometric, animal print, and more. Click here for help deciding which is better for your space — solid color vs. patterned.
Carpeting Pile
The pile of a rug refers to the surface of the fibers and plays a part in your selection. When stitched into a backing material, carpet fibers are either left intact in looped form or sheared off leaving the ends exposed.
The height of a cut or looped pile is typically called either high or low. Offering a low, resilient profile, low pile is easier to clean, better for allergy sufferers, and functions best in busy areas such living and dining rooms. High-pile carpet looks and feels much thicker, providing a more luxurious feel better suited for low-traffic spaces like bedrooms.
Softer and more popular in residential settings, cut pile is carpeting in which the fiber loop tops are sheared off. Conversely, more durable, matte-resistant, and popular in commercial spaces, loop pile leaves the entire yarn loop intact. Some carpeting features a combination of cut and loop pile. Great for higher-traffic and spill-prone areas such as the kitchen, flat-weave rugs do not have a pile, and are woven on a loom, not on a backing.
Family-owned for over 30 years, The Carpet Workroom understands how important your new home is to your family. Before starting your next carpeting project, reach out for a custom quote!
Wall-to-Wall Carpeting
Sure, hardwood flooring can be stylish and add value to your home; however, it's not always affordable or practical, depending on your needs. Carpeting likely provides a more cost-effective, easier to maintain, and more comfortable option while also giving you countless options to help ground your decor.
Also known as broadloom carpet, wall-to-wall carpeting involves having an entire room's flooring covered by a one large piece of carpet from wall to wall. Manufactured in various widths averaging between 12 and 15 feet, these rolls are sent to a carpet fabricator, like The Carpet Workroom, to cut it into custom shape and prepare it for installation.
As an alternative, carpet tiles not only fail to offer the clean, smooth look of wall-to-wall carpeting but are also typically more expensive, being sold at higher prices per square foot. Many of the luxurious, modern styles that are trending today are easier to find as carpet broadloom. Carpet tiles tend to come in more generic, basic styles. However, if you're looking to install carpet in a small area, carpet tiles may be your best option.
For tips on measuring your space for new carpeting, click here.
Rugs
Whether placed over wall-to-wall carpeting or hard floors, rugs are one of the best accents to a room and its decor you can make, offering additional personality, comfort, and warmth.
Area Rugs
Unlike wall-to-wall carpet or stair runners, area rugs are not attached to the floor, can be easily moved from one place to another, and come in a variety of sizes, with 5'x8′ and 8'x11′ being the most popular.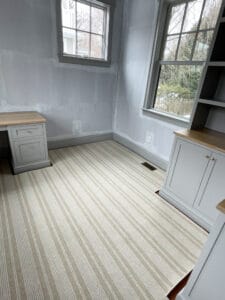 Area rugs are often placed under furniture like beds, dressers, and coffee tables to accentuate them. Check out this blog for tips on choosing the best area rug for under your bed. Other times, they are used for things like mitigating damage from foot traffic or sprucing up an entryway or hallway.
Because they need finished edges, when area rugs are customized, they are cut to specs and the ends are binded with one of a number of methods including narrow cotton biding, wide binding, serging, and nail heads.
Layering Rugs
For those who want to get a little more adventurous, rug layering is the practice of placing one rug over another, either fully or partially, to achieve a certain aesthetic. Best when the rugs are different sizes, layering rugs gives you greater creative flexibility, allowing you to pair different colors and patterns.
Layered rugs can have the same shape, patterns, and/or colors, or they can have different ones for contrast. Rugs can be overlapped in a number of ways including perpendicularly, diagonally, parallel, and even with a smaller one centered over a larger one.
Indoor/Outdoor Rugs
Able to be used in either indoor or outdoor settings, indoor/outdoor rugs are typically mostly poly but different from strictly indoor poly. Indoor/outdoor rugs are stain and mildew resistant, and UV-stabilized to protect against sunlight damage. They are among the strongest, most durable products but, like natural-fiber carpeting, they are typically area rugs and not installed wall-to-wall.
Runners
While technically a type of area rug, runners occupy their own category, featuring much more length than your average rug and at times being attached to the floor as in the case of stair runners. Adding style and extra protection of your floors from wear and tear that comes with heavy foot traffic.
Stair Runners
Covering the entire length of the stairs, stair runners not only add a sophisticated touch to your stairs, but they also provide much-needed safety for those traveling up and down them. Bare steps present a number of issues including a potentially slippery surface for feet.
Stair runners are installed one of two ways, either Hollywood or waterfall style, which makes a big difference in the overall look of the stairs. Read here for help choosing which runner style is right for your steps.
Hallway/Entryway Runners
Two other places that experience a lot of foot traffic are hallways and entryways. Runners not only help protect floors and improve safety, but they also help to fill long, narrow spaces, elongate specific areas, and guide guests towards certain areas.

Hallway runners work well in long narrow corridors that lead to other rooms. Using them in entryways is a great way to create an inviting look and feel to welcome guests into your house or specific room.
Typically measuring between two to three feet wide and four to fourteen feet long, a runner can brighten up those darker areas of the house. It's often best to place the runner in the center of the floor, and to leave at least four to six inches of space from the walls and entryways.
Enjoy Your New Home!
Again, congrats on your new place! We hope this information helps you make the best decisions to truly make it your home sweet home.
For more expert guidance on choosing the perfect carpeting for every part of your house, be sure to check out more of our blogs or get a custom quote today!