How to Pick the Right Size, Style, Material & Placement for Your New Bedroom Rug
As the sanctuary of your home, your bedroom deserves special attention when it comes to comfort and style. After all, it's that one place you can go to get away, close the door, and unwind for a while. (Sure, a bathroom offers some alone time, but you probably shouldn't be hanging out in there for hours at a time).
Whether catching some quick daytime Zs or getting your eight hours at night, you spend roughly a third of your life there, so you don't want to skimp on the things that could make or break your overall bedroom experience.
Choosing the right bedroom rug can go a long way in helping you achieve the look and feel you desire. While your bedroom may be large enough for other rug types like runners, throw and accent rugs, or rug placement under dressers or in front of closets, this blog is focused on the most important one — the under-the-bed area rug.
For a bigger impact on the room, many people tend to choose a rug large enough to fit under their bed. Whether you're in the market for a pre-made rug or a custom area rug designed to your specifications, it helps to know where to start. From size and placement to material and style, consider our expert advice on choosing the best area rug for under your bed.
Choosing the Best Bedroom Rug Size
Your optimal rug size depends largely on your bed size and room size. Most people go with rectangular rugs to accompany typical bed and furniture rectangular dimensions. If you have unusual shapes or a motif featuring one particular shape, you may want to choose a round, oval, or irregular shape to go with it.
Twin beds (mattresses) typically measure 38 inches wide and 75 inches long, making them by far the smallest of the common bed sizes. So, pairing a single twin bed with a 5′x8′ rug is always a safe bet.
However, if the room is on the larger side, an 8′x10′ rug can work too, especially if the rest of the furniture is sizable. Going with a 9′x12′ option might be a little bit of a stretch, unless the rug extends to all four walls, almost mimicking the floor carpet.
Similar to twin beds, fulls are 75 inches long, but measure a much more substantial 54 inches in width. If your bedroom is on the smaller side, for example, a 5′x8′ rug will work just fine, but if you've got the space, going for one of the larger sizes will make a greater visual impact.
The most common rug size under a king (76"x80") or queen (60"x80") bed is 8'×10'. For these, a smaller rug, like the 5′x8′ option, is almost visually lost. You may want to seek out a larger option like 8′x10′ option or even 9′x12′ to give the rug more breathing room and more cover over hard surface flooring.
Keep in mind to include significantly sized bed frames, headboards, and footboards, in your custom measurements. If total measurements of a twin more closely match a queen mattress size, you may want to go with a larger rug.
Already have a good idea of the rug style, size, and material you want? To get a custom quote or shop online, visit The Carpet Workroom — a trusted, family-owned carpeting company with over 30 years of experience from customization to installation.
Choosing the Best Bedroom Rug Placement
You have a couple of options for your bedroom rug placement: (1) put your entire bed and entire nightstands on the rug (9'x12' recommended), or (2) place the rug under only the lower two-thirds of your bed (8'x10' recommended).
With the first option, leave at least 8 inches of space between your nightstands and the end of your rug. If you choose option two, while your nightstands and headboard will be completely off the rug, it provides a more sophisticated look.
Either way, your rug should extend at least 18 inches out from the sides and bottom (foot) of your bed. Also, make sure the bed rug is clear of all swinging doors and that it doesn't touch any additional furniture like dressers or desks.
Bigger is better in this case, and a substantial 9′x12′ rug paired with a king looks great, but an 8′x10′ option works as well.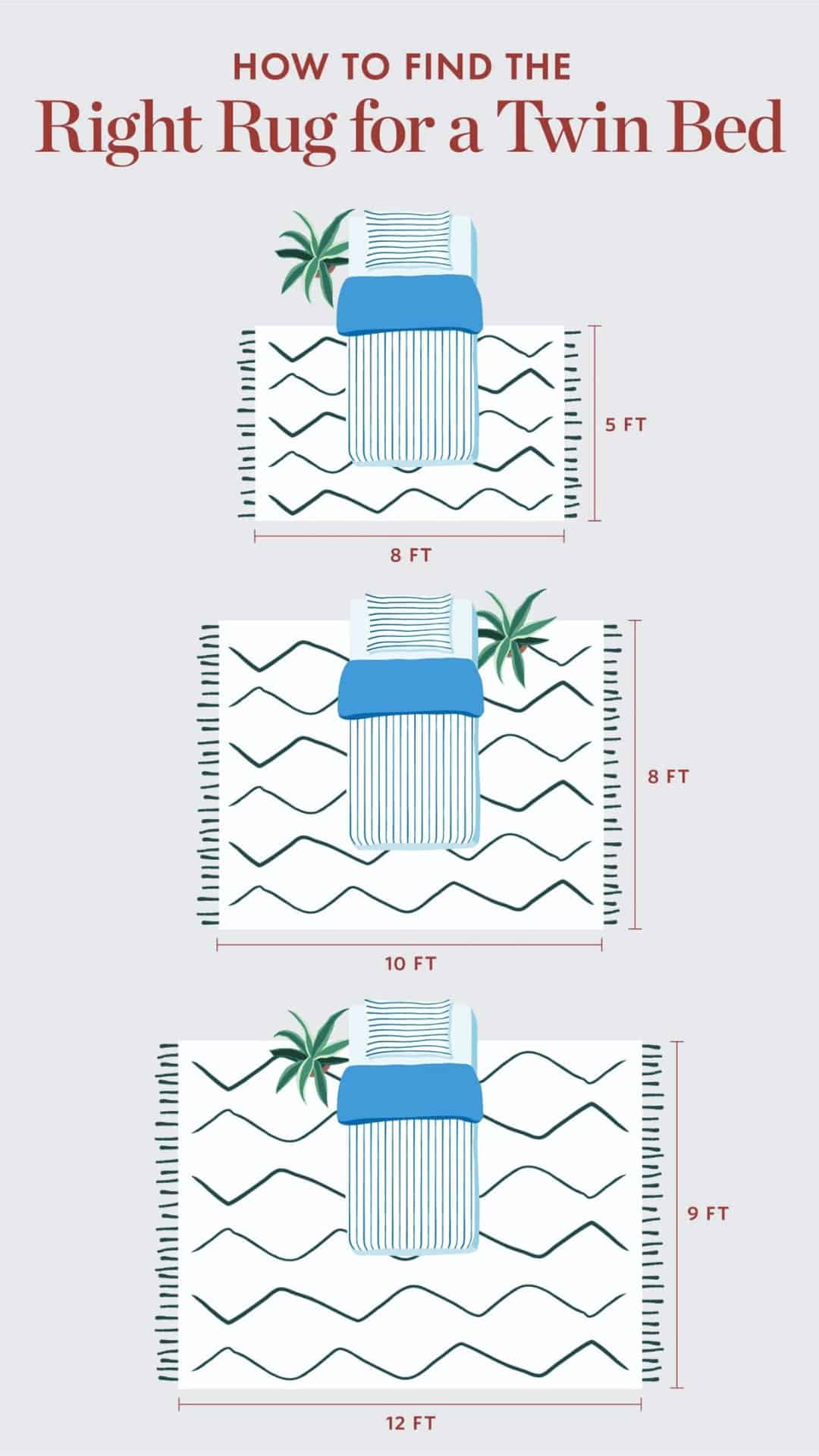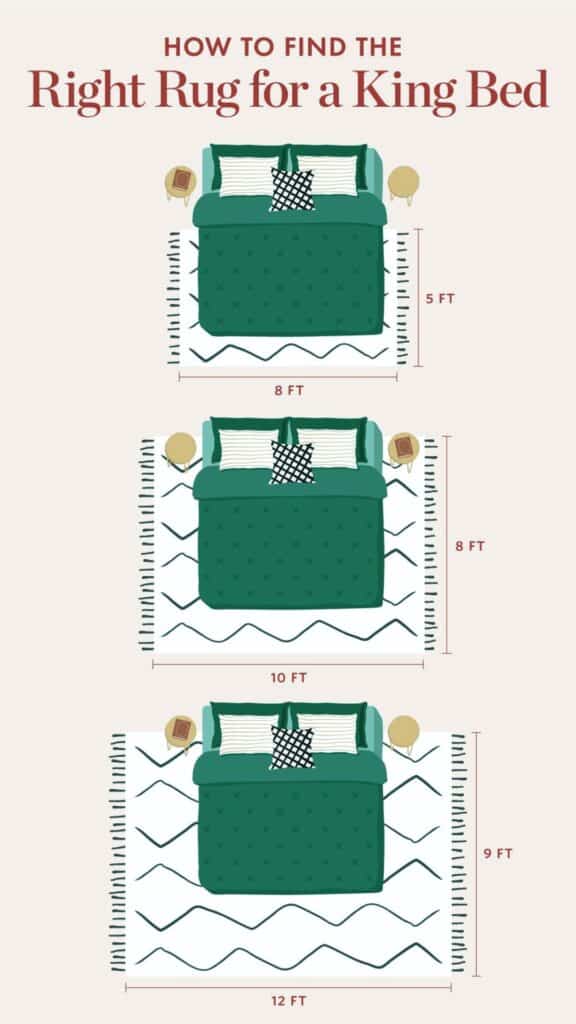 CARPET WORKROOM TIP:
To get an idea of how a rug size will look in your room, use easily removable painter's tape to "map" out the rug. Measure out your rug dimensions with measuring tape and lay the painter's tape on your floor to mimic the dimensions.
Choosing the Best Bedroom Rug Material
When you step out of bed barefoot in the morning or middle of the night, you'll want a soft, warm place to put your feet, which means picking a rug with a comfortable texture. Even if you have wall-to-wall carpeting, a rug can enhance the look and feel, and there are a variety of material options to choose from.
Although they tend to be more expensive, wool rugs are durable, soft, and easy to clean. Other natural-fiber rugs like jute or sisal are durable options but may feel coarse under foot.
One of the more popular options due to lower costs and easy maintenance, synthetic rugs, like those made of polypropylene, are more natural looking/feeling than ever, but they may not hold up as long.
For luxurious comfort, you could go with animal skin styles like sheepskin or silk, though they may require professional cleaning. More affordable than wool or silk, cotton rugs are easy to clean but aren't as durable.
Choosing the Best Bedroom Rug Style
While comfort is king in the bedroom, people often prioritize style as well. Whether you're into a dozen fancy throw pillows or an abstract painting over the headboard, you probably have a good idea of how you want your room to look. But even if you don't, don't worry; you'll get there.
Because rugs come in countless different colors and patterns, it can be very difficult to choose one. It helps to ask the answer the following questions:
Would you like something traditional or more contemporary? Consider the style of your house as well as the decor of the room. You'll most likely want a rug that matches. Modern rugs can be clean, sleek, and minimalist, and come in unique shapes and patterns. Traditional rugs include Oriental styles such as Persian are characterized by their centralized designs, intricacy, and strong color palettes.
Do you want it to be a focal point or blend in? If you're looking for a rug that makes a statement, one with bold, vivid, or contrasting colors will stand out and be a focal point. For a one that's more subtle, choose a softer color or shade of the floor color, or a neutral tone that helps make the room more spacious.
Would you prefer a pattern or plain design? A good rule of thumb is to go with a simple design if there's already a lot of patterns in the room. If there are few patterns in the room, you may want to go with a striped, floral, abstract, or other patterned rug for contrast. Just make sure whichever you choose fits the look and feel of the whole room.
CARPET WORKROOM TIP:
Maybe you have a particular or favorite style in mind, one you saw in a magazine, online, or on TV. Bring a clip-out or picture of it on your phone to The Carpet Workroom, and our experts can help you find similar options.
To make sure your future rug will be a great compliment to the room and the elements in it, gather samples of prevalent colors/patterns already in your bedroom (e.g. well-lit pictures, paint/wallpaper/fabric swatches) so that you can find a match or choose softer or bolder shades for your rug.
Remember, while these are great tips to help you get started, ultimately, the choice is yours. Don't be afraid to experiment with different sizes, shapes, and styles of rugs until you find the perfect one, and don't hesitate to seek assistance to make sure you get it right.
For expert help selecting just the right rug for your bedroom, email us at info@carpetworkroom.com, DM us on our social media pages, or stop by our store and talk to one of our friendly and knowledgeable representatives.