All-Natural Carpeting for Your Stairs That Would Make Mother Nature Proud
Earth Day is a time for us each to reflect upon our personal impact on the world and commit ourselves to taking actions to keep it as clean, safe, and sustainable as possible, especially for future generations. One often overlooked but highly effective way for you to do this is by choosing eco-friendly materials to furnish your home. As carpeting experts, we'll take a look at how you can play your part through your carpeting choices.
Impressing mother-in-laws and Mother Nature alike, more and more homeowners are integrating eco-friendly materials into their home's aesthetic, and one way they're doing this is by adorning their stairs with all-natural stair runners.
A stair runner is a length of carpet that covers the stairs from top to bottom, offering the style, comfort, and non-slip safety benefits of carpeting under your feet while still allowing the original flooring to be exposed on both sides.
Stair runners deliver an elegant touch to any home. For those with wood stairs, a stair runner protects the hardwood underneath, protects from falls, and reduces the sound of footsteps.
Available in a variety of materials and styles, stair runners are made up of either synthetic or natural fibers — the latter being the better choice for the environment.
If you've been thinking about going all-natural with your carpet selection, consider these three key steps to sprucing up your home with eco-friendly stair runners.
1. Deciding if an eco-friendly stair runner is right for you
Made from more sustainable materials, eco-friendly stair runners feature natural fibers derived from natural plant materials, with each specific natural fiber carrying its own unique characteristics, look, and feel. Aside from its environmentally-conscious properties, natural fiber carpets are cherished for their lavish textures and bona fide natural weave.
Furthermore, synthetic fibers release volatile organic compounds (VOCs) which are gasses that can be harmful to the environment and may have short- and long-term adverse health effects, especially for those with respiratory problems. Natural fibers will not release VOCs, though a synthetic backing may.
While eco-friendly stair runners are a great choice for both the home and the environment, natural-fiber carpeting isn't always the best choice for certain situations. Because they require greater care and attention, they aren't great if you have young children or pets who tend to make a lot of messes. Cats in particular may want to scratch at it, and dogs may want to relieve themselves on it due to its natural smell.
Meanwhile, natural fibers tend to shed more than synthetics, especially when brand new, and have a rougher texture which may be rough on baby skin and soft feet. Natural-fiber carpeting also tends to run a bit pricier, so if you're watching your wallet, synthetic may be a better choice.
If these issues don't reflect your specific circumstance and you do decide natural fiber and its earthy features are right for you, your next step is choosing the right material.
The Carpet Workroom has a wide collection of natural-fiber carpets ready to be customized for your space. Make an appointment today or reach out with any questions you may have through info@carpetworkroom.com.
2. Choosing the right natural material
The Carpet Workroom offers a variety of high-quality natural-fiber carpeting options so you can find the perfect fit for your home.
Wool
Derived from the fur of sheep, wool is one of the most elegant, most durable carpeting fibers available. Compared to the other natural materials, wool is also one of the softest, most comfortable options. Most manufacturers save their most decorative designs and unique colors for their wool lines, making these materials not only pleasing to the touch but also the eye.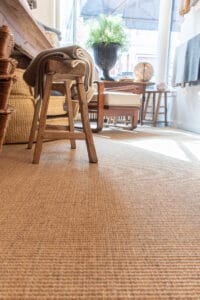 Sisal
Sisal fibers are harvested sustainably by hand from the leaves of a specific cactus plant and are recognized as stronger and more durable than other natural materials. Sisal's best attribute is also its greatest weakness as its stiffness is not among the softest options. However, sisal carpets remain one of the most popular natural fibers carpets thanks to its variety of different geometric patterns and styles available.

Jute
Pet-friendly with thick fibers that pick up relatively easily, jute comes from the stalks of the Corchorus plant which grow in the rainy climates of India and Bangladesh. Jute is often compared to cotton because of its feel, however, it's more durable and resilient to wear and tear. Jute is also one of the most affordable natural fiber options.

Seagrass
This non-porous fiber is a tropical grass that is smooth to the touch and has a natural shine. As a water plant, this is one of the most water- and stain-resistant fibers of the bunch. However, quick action is needed when an issue arises as the material can only protect from damage to a certain extent. Compared to other natural fibers, this is the best material to place in busy areas such as hallways, entrances, and other areas with heavy foot traffic.
Hemp
Hemp is a variety of the Cannabis Sativa that has been used globally for more than 10,000 years. Many industries, like the carpet industry, have invested in hemp to create a wide variety of industrial and consumer products. Though relatively coarse, hemp carpet softens moderately over time and becomes stronger as it wears, making it a great option for those seeking a long-lasting carpet.
As with any carpeting project, the look is also up to you, and there are a number of colors, patterns, and designs to help you to find the perfect one for you. Furthermore, stair runners have two installation options — Hollywood and Waterfall — which also help you customize your overall aesthetic.
3. Maintaining your eco-friendly stair runner
While a great addition to any given space, natural fibers can be very delicate and require an extra level of care compared to synthetic.

One of the most important things you can do to increase your stair runner's lifespan is to be vigilant against any liquids making contact with it. Liquids, including water, can damage your natural-fiber carpet, so be careful about where you place this type of carpet. We recommend keeping these carpets distant from bathrooms, doorways, and any areas that may expose your material to moisture.

Still, as they say, accidents will happen, and the longer you have your carpet the better your odds of experiencing a complicated stain or two. When a stain does occur, you must act quickly so the stain doesn't penetrate the carpet as there's a chance some stains may cause permanent damage.

Natural fibers are also sensitive to many cleaning agents and solutions, so you'll want to avoid most commercial products when cleaning your carpet. Instead, grab a moist towel and gently blot away the mess. For more serious stains, it's best to call a professional carpet cleaner for a better assessment of how to manage the stain.
—
For more information on cleaning your carpet, check out our carpet cleaning tips! You can also reach out to info@carpetworkroom.com to set up a professional cleaning to ensure your natural fiber carpet receives the proper cleaning and maintenance!
Eco-friendly stair runners are a great way to enhance your living space but it's important for you to first know if they're right for you, which natural fibers are the best fit, and if you're up to the task of taking care of it properly.
Family-owned and operated for over 30 years, The Carpet Workroom has helped countless people in and around the Boston area beautify their homes with the best in carpet selection and installation.
For all your stair runner and other carpeting needs, contact us here or through info@carpetworkroom.com, and a project manager will help you get your project started!