Seasonal Carpet Solutions Will Help You Set the Perfect Festive Tone
For much of the country, the holiday season starts the day after Thanksgiving. For the overly eager, as soon as November 1st drops, it's down with the ghouls and goblins and up with the lights and trees.
Whether you're more of a Buddy the Elf who lives for Christmas or more of a Grinch who takes a bit longer to get in the spirit, before breaking out the decorations this year, consider how important your floor is to your home's overall holiday decor.
Tis the season for throwing parties, hosting in-laws, and dodging gaggles of running kids, so making your home warm and welcoming this winter should be a top priority. One of the easiest, most-effective ways to do this while infusing each room with holiday cheer is through the intentional use of seasonal rugs and runners.
A strategically-placed area rug, hallway runner, or small accent rug can be the foundation of a room's overall motif or the perfect supporting piece. In this blog, we'll look at the many ways your flooring choices can make the holidays brighter.
Warm, Welcoming Spaces for Friends & Family
While the living room and dining room are typical focal points of the holiday, nearly every room in your home can play a part in creating just the right atmosphere for kids and visitors alike — including hallways, kitchens, bathrooms, and even bedrooms. As a person leaves one room for another, you'll want to make it a seamless transition that keeps that festive vibe going. And you can't forget about the foyer and front porch to make a great first impression as guests enter.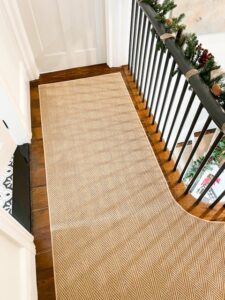 Now's the time for you to be your most creative with your color coordination, textures, and placement. While going trendy is always a smart move, your house's style is totally up to you and should capture the essence of your family's personality as well as your own particular fashion sense — whether you're more of a minimalist or maximalist, traditionalist or modernist.
Whichever path you choose, your rug and runner choices should follow stylistically, setting the tone and tying each room's furniture, pillows, wreaths, trees, and other elements together. With a wide variety of sizes, colors, patterns, and materials out there, you're sure to find the best rugs and runners to fit your overall holiday scheme. Here are a few things to consider as you choose:
Pops of Seasonal Colors
The season offers plenty of great colors to work with — from classic Christmas go-tos of greens and reds to more elegant touches of golds, silvers, and blues that also make nice alternatives if your family celebrates Hanukkah or other holidays.
Bold, bright rug colors are excellent for creating that old-fashioned, fun, and playful environment for kids and can tie a more neutral room together. On the other hand, muted hues lend themselves to a subtle blend and more tasteful look and feel. Off-whites, grays, yellows, and other non-traditional hues are nice for mixing things up a little.
Neutrals and color schemes like blue and white or silver and white, which essentially act as neutrals, are easy to marry with the rest of your room and versatile enough for repurposing all year round.
Go With the Snow
Speaking of rugs you can use long into the new year, pure or creamy whites help strike the perfect winter wonderland tone and should get along well with any other designs or color schemes. Plus, it's a great excuse to go with the fluffy white carpeting that creates both physical and visual warmth.
Layering these rugs over other carpet helps create the illusion of fallen snow. They're also easy to pair with winter foliage schemes and natural tones for a look you can keep until spring arrives. Even if it isn't a white Christmas outside, such snowy, soft carpeting will help you make it feel like it is.
Timeless Styles
The holiday season is rife with tradition, and it's often important to evoke that sense of nostalgia for both young and old. Vibrant solids featuring classic colors are safe, can't-miss options while timeless patterns like gingham, stripes, and plaids offer more nuance and call to mind wrapping paper and winter scarves.
Vintage and rustic styles are also great choices for creating that cozy cottage ambiance and should play nice with your mother's old decorations. Along with neutral rugs, these styles are also popular for those who don't celebrate the holidays. Meanwhile, to create a more earthy ambiance or to fit a more minimal and organic scheme, consider unfurling sustainable natural-fiber rugs like wool, jute, or sisal.
Snuggly Textures
Baby, it's about to get cold outside, and you won't want to be caught with bare flooring for your family's bare feet. That's especially true for hardwood, but even with wall-to-wall carpeting, rugs and runners let you add extra layers of cozinesses with chunky knits and softer textures.
Winter means snuggling up around the fireplace or wrapping yourself with a big blanket on the couch, and your carpeting can add to that warmth. Furthermore, due to the fickle and often freezing weather outside, people tend to spend more time inside, making it even more important to turn up the coziness along with the thermostat. Shags and rugs with tufts of texture are ideal for warming things up and relaxing!
Complimenting Your Holiday Decor
Remember that your carpeting won't and shouldn't be the key piece in some rooms as that big bright tree, stocking-laced mantle, decked-out dinner table, or solemn manger scene takes center stage. Here, you'll likely want to choose rugs and runners that play supporting roles.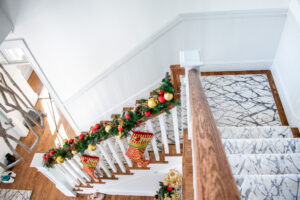 While vibrant and, at times, overly elaborate Christmas rugs help add to the nostalgia, more neutral rugs help tie together holiday decorations and let those main pieces own the spotlight.
Whether in the hallway, under the coffee table, or under the tree, placement is key, and you can't underestimate the power of the right complimentary area rug, small rug, or runner.
Good Things Come in Small Packages
Like opening a box and finding a diamond ring vs. a vacuum cleaner, bigger doesn't always mean better. But this isn't about the gifts under the tree; it's about the good things that come from incorporating small rugs into your seasonal decor. This is a great time to get creative with your choice and placement of small rugs to add splashes of color, design, and texture throughout the house.
Think of the possible places: under the coffee table; in the foyers and entryways; alongside beds; in front of the fireplace, mantle, closets, or kitchen and bathroom sinks; the list goes on and on. Your front porch especially could do with a nice, durable small rug or two to welcome guests while giving them something to wipe their snow-covered boots on. At the same time, you may be one to put up small trees in your bedrooms, foyers, or staircase landings, which could also use some carpeting support.
Typically less than 6' in length, small accent rugs, also called throw or scatter rugs, offer a subtle way to support the rest of your room's decor. They're also great for layering over wall-to-wall carpeting and larger area rugs, and are easy to store with the rest of your decorations come early January (or February, March, whenever, we're not judging).
Playing It Safe
Kids get the toys, and we get the socks, clothes, appliances, and tools. Like it or not, the older we get the more practical the gifts, but when it comes to your choice of rugs and runners, practicality is a big plus.
Think of all that's about to take place in your house in the coming weeks — from parties and dinners to the kids playing with their toys and pets freaking out over visitors. The mess and wear and tear potential is through the roof, making rugs and runners a smart investment that protects your floors from high foot traffic and the inevitable meatball, cranberry sauce, wine, or eggnog spills. Plus, a rug beneath a natural tree helps protect flooring from accidental water, pine resin, and sap damage.
Your rugs and runners themselves should be resilient and easy to clean, and thankfully, there are plenty of machine-washable, pet-friendly, and stain-resistant options out there. If you prefer something more sustainable and eco-friendly, those natural-fabric rugs may be better for you.
Plus, don't forget about the constant thunder of tiny feet that's sure to come. Rugs and runners offer that extra cushioned layer to reduce some of those less appealing sounds of the season and provide a little more peace on earth.
————————
Transforming your house into a home is our specialty at The Carpet Workroom, and that includes making it the perfect home for the holidays. Shop online or schedule an appointment to visit one of our showrooms where you're sure to find just the right carpeting solutions for the season!