A Look Back At The Carpet Workroom's Progress and Achievements From Last Year!
The new year is finally here! 2023 is in full swing and custom carpet projects are in motion inside our workroom. Before we fully move on from last year, we always enjoy reflecting back to the great accomplishments and fun memories we made in 2022!
These are some of our favorite moments from the past year:
Launched A New Website
Behind the scenes, The Carpet Workroom has been undergoing many changes and improvements to bring our customers the best possible experience. One of the biggest changes The Carpet Workroom underwent this year was launching our completely redesigned website!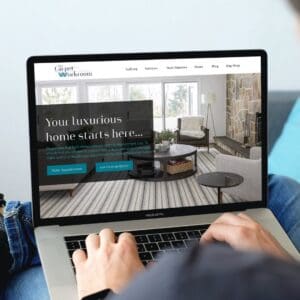 Our website has thousands of visitors every week who are actively seeking inspiration, insider carpeting and home fashion news, or getting started on a custom carpet project. With our website we want to truly encapsulate The Carpet Workroom's craftsmanship and skill without having to overwhelm our visitors with boring information and content. With user experience in mind, our new website features a contemporary and classy look that is very easy to navigate. 
These are a few of the key changes we made to our website:
Product Refresh
Just as time comes and goes, so do carpet styles. The Carpet Workroom's product collection is made up of the most fashionable and elegant styles available in the market. We're always making an effort to update our offerings to ensure you have the best to choose from. While we were sad to leave behind some styles this past year, we're always excited to welcome some new ones as well!
One of the newest additions to our product lines is Rebel Carpets & Rugs! The Rebel collection is filled with a great selection of beautifully crafted carpet styles. These carpets are made using high quality materials and sport cutting edge designs that will instantly take a home to the next level. We have a Rebel sample rack available at our Needham (Greater Boston) location to begin viewing and selecting styles.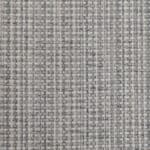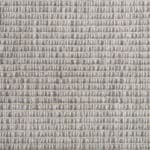 Our Roll Specials program also received an update with new stylish products. Our roll specials consist of our most popular styles that are kept in-stock right in our workroom. These are available at a discounted rate and have a faster turnaround time compared to other styles. Heading into the new year, our two latest additions to the roll special collection includes Orissa (color: greige) and Guru (color: grain). These are two distinct hand-loomed styles featuring neutral hues and constructed using 100% premium wool!
A Memorable Year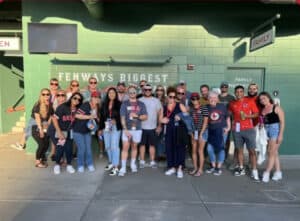 This past year we also shared many fun and exciting memories! Every once in a while we enjoy taking a break from carpeting and create memorable moments with all of our employees. The Carpet Workroom's employees are big sports fans and this year was a testament of that. We started 2022 off by first enjoying a fun, luxury experience at the TD Garden & getting to see the Boston Bruins faceoff against the Flyers. In the summer we relished a fun evening at Fenway Park with delicious food and an entertaining Red Sox game. To show our appreciation for everyone's hard work and effort we closed out the year with a holiday party!
One of our favorite moments of all year was hosting our remnant sales! In 2022 we hosted 3 different remnant sales. Remnants are left over carpet pieces that can be repurposed for many other projects, this opens the door for many of our customers to find hidden gems and great deals on our elegant styles. Behind each sale is a deeper meaning; for each event we commit to a cause or a charitable organization to donate a portion of proceeds too.
Finally, there were also moments in 2022 where we made carpeting "fun"! One of our favorite moments was creating a cake smash video! Matt Lovetere's daughter was celebrating her 1st birthday and we let her have her moment to smash up a cake over one of our premium area rugs. Before the shoot we prepared the rug with our GreenGuard Treatment which served as a great opportunity to highlight its safety and effectiveness.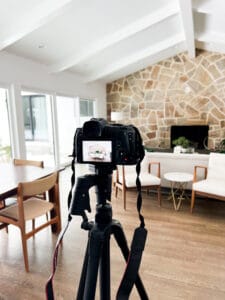 Another fun moment we shared was putting together our holiday cards! We got together all the babies and infants of TCW and brought them to a winter wonderland (right in our workroom!) With the effort and help from our employees, we created a joyful and cheerful experience for the children! We made sure to capture those moments and put them together for our company holiday cards.
Without the support of our own clients, we wouldn't have been where we are today. The Carpet Workroom is grateful for all those stylish moments we shared in our showrooms and in your homes. From stunning distinguished projects to stylish photoshoot opportunities, we're always excited to with our designers and customers!
Social Media Growth
Our social presence is an integral part of our business as we are always looking to be the number 1 source for inspiration and insider home fashion news. Just in 2022 alone we saw tremendous growth for both our Instagram & Pinterest pages. Here is a look at some of our insights:
Gained over 2.7k New Followers
Uploaded over 416 unique posts
Reached over 864k different users
Gained over 1.2K Followers
Reached up to 2.5M monthly viewers
A Year of Giving Back
Every year The Carpet Workroom makes it a mission to give back to the world around us:
This year The Carpet Workroom donated over $15,000 to 22 different charitable organizations!
Planted over 2,000 trees with One Tree Planted after a successful Earth Day Remnant Sale
Donated gifts to the Avon Community Christmas Program for 3 different families
Became an official toy dropsite center for the US Marine's Toys-for-Tots
Raised over $5k to support the One Love Run Club in the Falmouth Road Race with the help of our followers, close friends and family, employees, and many other individuals.
Whether it's helping out in our local communities, or stepping outside of our borders to make a difference in other parts of the world, The Carpet Workroom takes pride in becoming a catalyst for change!
– –
Our crews are back in action! Whether it is fabricating new area rugs or installing beautiful stair runners, The Carpet Workroom is ready for the New Year! We can't wait to see what this new year brings us and the great memories we'll make! If you'd like to get started on the right note this year and craft your own custom carpet project, please email us at info@carpetworkroom.com! One of our project managers will reach out to help you get started!