The Top 10 Most Popular Carpet Styles Heading Into The New Year
2022 was a year that was defined by stylish and eye-catching projects! There were plenty of distinct carpet styles used for many of our projects throughout this past year, but there were a handful of styles that were trending throughout the year and were constantly in fabrication.
We've put together a list of the top 10 carpet styles garnering all the attention heading into 2023: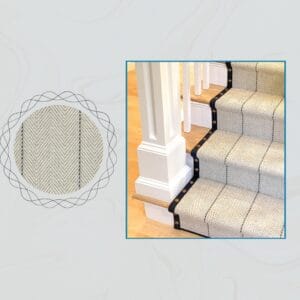 This was the most trending style at The Carpet Workroom by a wide margin! This Peter Island Stripe style starts with a timeless narrow herringbone pattern illuminated by graphite and ivory colors. It also weaves a charcoal vertical stripe across the pattern for a bold finish. This stylish look was hand loomed in India using 100 % wool yarns.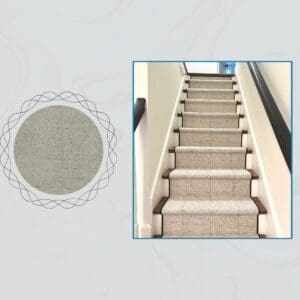 Martinique is a modern carpet style constructed using 100% all-natural wool that will always be in fashion! Inspired by the natural grass weaves of the Caribbean, it features a light chevron pattern paired with dense silver texture yarns. It's illuminated with specs of light and dark tones throughout, adding to its nature-inspired aesthetic. This style also is constructed with a cotton and jute backing for added stability.
This style has been colored using G.O.T.S. certified organic dyes. The Global Organic Textile Standard (GOTS) certification is the most comprehensive go-to in sustainability – as it covers environmental, production, and social aspects.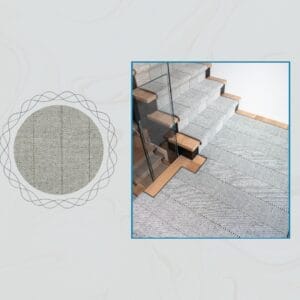 This is another version of the Martinique style that was in constant demand throughout 2022. What makes this one different from the Silver color is that the Charcoal colorway features a dark and bold look to it for a more contrasting appearance. The ivory stripes over the charcoal allows the chevron pattern to stand out and make a statement.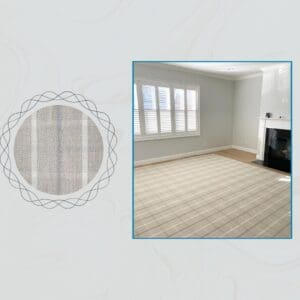 The eye-catching Tattersall style that instantly delivers a classy look with a comfy feel. The modern plaid pattern on this style is designed using light gray hues over a pearl beige herringbone pattern. A simple, trendy look that can pull together any design aesthetic. Constructed using 100% New Zealand wool, you can expect this style to instantly fill your home with elegance and coziness.
Oil Nut Bay — Silver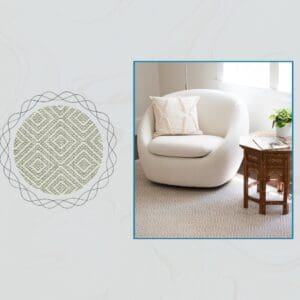 The Oil Nut Bay style is one that we can see growing in popularity for 2023! Named after one of the U.S. Virgin Islands, this style weaves together a calming neutral silver and creams in a concentric diamond pattern that repeats throughout the carpet. The softer tones of this style make this a great choice for those looking to add a subtle, quiet touch to your home decor.
Arlen — Dune
The Arlen style is loved by many for its simple look and its natural, earthy color hues. This style is made using 100% polypropylene, a durable and resilient synthetic material that can be used for both indoor and outdoor spaces! The herringbone pattern adds a distinct touch to the carpet that pulls together any given design profile.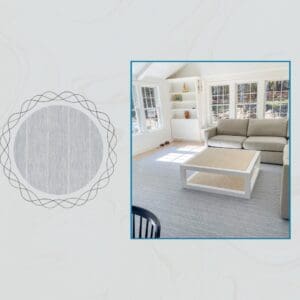 A style that was favored by many for its illuminating light blue herringbone pattern tied together with a white striped pattern that repeats casually. The Duplin style is a wilton weave and 100% wool for guaranteed durability, a great choice for hallways, stairs, and living spaces.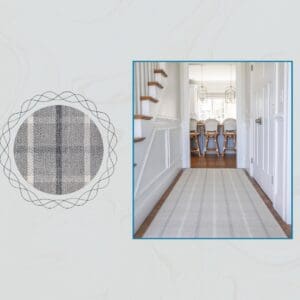 Plaid patterns seem to be a timeless, trending carpet design heading into 2023. This is another colorway of the popular Tattersall pattern mentioned above (no. 4). What distinguishes this style from the previously mentioned 'Pearl' is its cooler light gray herringbone pattern rather than a warmer beige color. Make a statement with thanks to its more vibrant plaid pattern.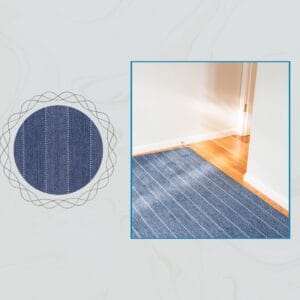 A dark and daring style that instantly elevates the aesthetic of any space. This indigo navy blue carpet features a wilton woven herringbone pattern constructed with 100% Wool. We often see this style chosen for homeowners that are looking to piece together their nautical and coastal interior decor.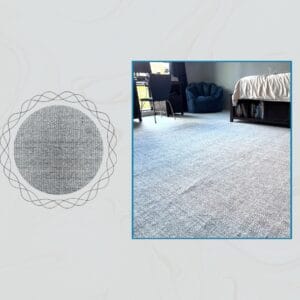 This beautifully hand loomed style is crafted using 100% long staple wool, offering instant coziness and durability. The off-white yarns paired with the cobalt gray color hues makes this neutral style a great choice for any aesthetic.
—
We're excited for the new year and can't wait to see these timeless styles custom crafted for our upcoming projects. Can you picture your home showcasing these trending carpet styles?
If you're interested in getting started on a new project email or contact us at info@carpetworkroom.com, one of our experienced project managers will reach out and help you get started!