Keys to Creating the Best Carpet Seams
Ideally, soft flooring should appear seamless and smooth. But, one of our biggest challenges is that not all materials are manufactured wide enough to execute the project in one piece. This usually requires the need to bring in additional material, and joining the pieces together to create one single piece of carpet. This process is known as carpet seaming.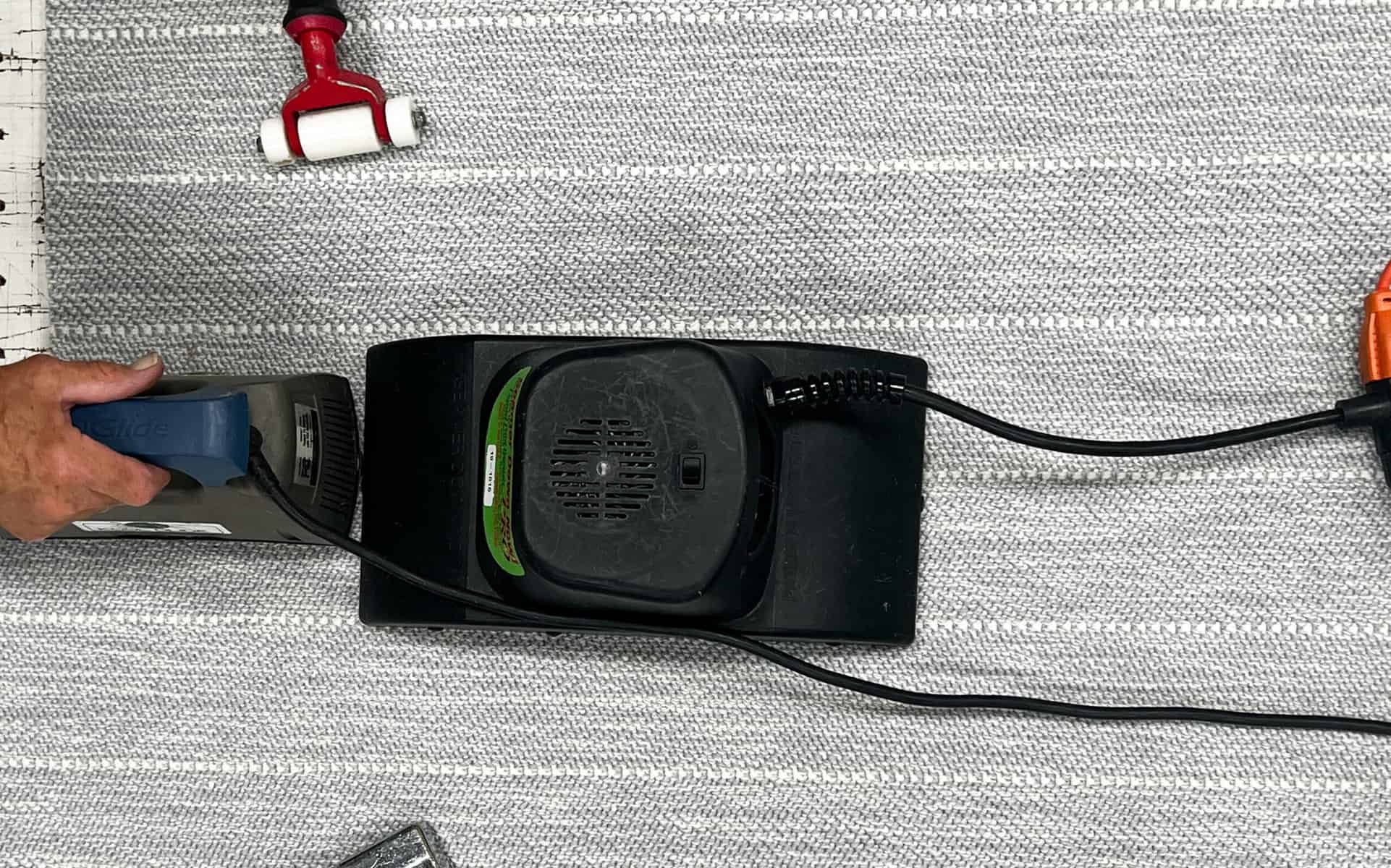 Features of a Properly Constructed Carpet Seam
Carpet seaming can be a very tedious task that requires a well-experienced carpet mechanic to complete. According to the Carpet and Rug Institute (CRI), a properly constructed carpet seam should ideally have the following:
Clearly trimmed edges that are secured with a reliable seam sealer, such as latex. When trimming a carpet, it's important to go according to its construction and the material you're working with. Some carpet materials, such as those that are tufted, can easily fray if they are not trimmed in the right area. If this step is not done correctly it can lead to fraying along the seam and rapid deterioration of your carpet. To finish off the trimming, we recommend using a latex seam sealer to avoid fraying and give your seam an additional layer of protection. Seam sealers don't harden and allow the carpet material to move freely without compromising the integrity of the seam.
Tightly adjoined edges without any gaps or overlaps. When seaming a carpet, you want to make sure that it's as close as possible. By keeping things tight, it helps maintain your seam's integrity as your carpet undergoes its typical wear and tear. This is something that must be taken into consideration when creating a hand-sewn seam.
When necessary, it maintains a reasonable pattern match. The seaming process can get a bit tricky when dealing with a carpet that has a specific pattern match. Geometric and other consistent patterns are generally easier to seam since they are very consistent. However, some carpet styles can have patterns that are random. When dealing with these types of carpets, it will require extra time to be able to match the pattern as close as possible, without creating a distraction.
It will not be invisible, but the objective is to make it as unnoticeable as possible. Carpet seams can be difficult to hide, but with proper construction, the seam can be hard to detect. This also circles back to making sure that the edges are tightly adjoined to help make sure the seam doesn't stand out and cause a distraction. Once everything comes together, and all the proper steps have been met, your seam should be fairly difficult to spot.
Different Types of Carpet Seams
As mentioned previously, it's important that the proper seaming method is used during your carpet installation. Depending on the construction of the carpet you're working with, some carpet seaming methods can run the risk of damaging or accelerating the wear and tear of your carpet. At The Carpet Workroom, we seam using the following methods: hand-sewn seams, butt-seams, and heat-melted seams.
Hand-Sewn Seam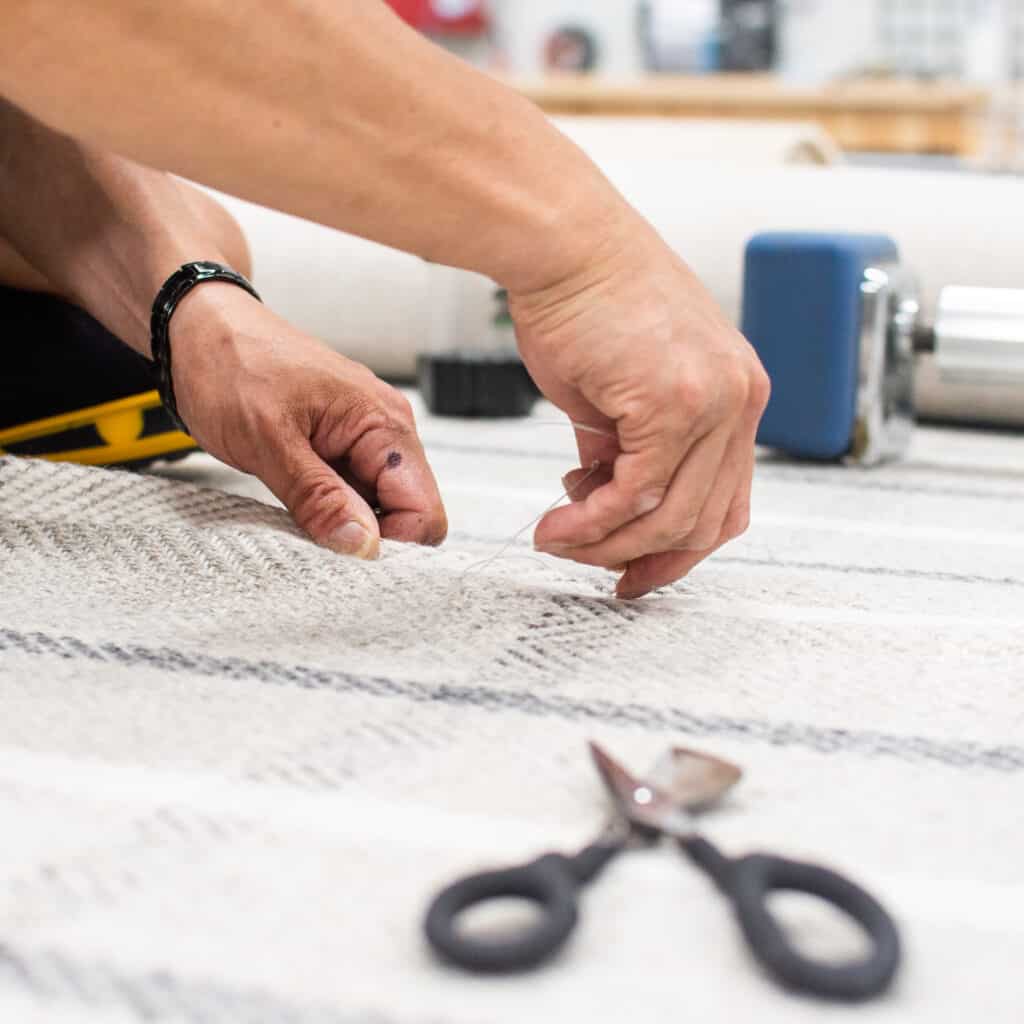 Known for being the original seaming method, a hand-sewn seam is the most intricate type as it requires extra skill, diligence, and a whole lot of patience. As the name indicates, this method requires stitching the entire seam using a needle and a durable synthetic thread, such as nylon. It's important to maintain the threading very tightly and close together so that the seam doesn't unravel over time and stand out. Finally, the seam can be reinforced with a latex seam sealer behind the stitching to ensure a long-lasting seam.
While this method usually takes more time to complete, it's considered one of the most reliable options. We highly recommend using this method if you're working with a carpet that has a wilton or woven construction, due to its complex structure.
Butt Seam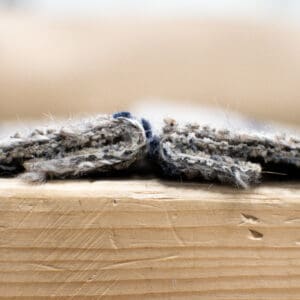 A butt seam is another version of the hand-sewn seam that can be applied, but this method is best reserved for flat woven carpets. In contrast to traditional hand-sewn seaming, a butt seam requires folding in the edges. Since flat weave carpets are produced on a loom by weaving carpet material horizontally and vertically, these carpets can move more freely and can easily unravel once they are cut. By folding down the cut edges, you secure those loose ends to the back of the carpet and seam it together where the carpet creases and folds down.
Once it has been folded down, you can continue the seaming process using the hand-sewn method.
Hot-Melt Seam
The hot-melt seam method is suggested for carpets constructed by tufting. While the name may cause confusion, the carpet itself is not being melted nor heated up. Instead, a thermoplastic tape is placed underneath the seaming area; this tape is also called a hot-melt tape as it requires the adhesive on it to be melted in order to keep the seams tightly together.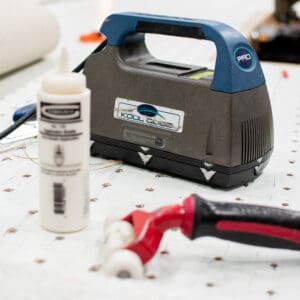 Traditionally a hot iron, or "seam iron," is used to heat up thet hot-melt tape, but this technology has been innovated and a much more reliable device is now commonly used by professional installers. This new device is called a Kool Glide, which is essentially a device that uses microwaves to heat up the hot-melt tape rather than using direct heat; this cutting-edge device dramatically speeds up the seaming process and can be considered as a much more reliable option. A hot iron also can leave behind indentations on the carpet material which can affect the overall look of your carpet. The device used depends on the installer you're working with, but the use of the Kool Glide has increasingly become more popular.
Finally, as the hot iron or Kool Glide moves across the seam, it's important to secure the hot-melt tape. You can do so by using a seam roller to evenly spread out the adhesive and make sure that the carpet and hot-melt tape are firmly attached together.
Seam Placement
The last piece of the carpet seaming puzzle is the placement. There are certain guidelines that we always try to adhere to when selecting where in the room to place the seam:
Avoid placing a seam in direct line of sight when you enter the room.
Avoid running the seam across the room.
Find the part of the room with the least direct light.
If there's a pattern, disguise the seam by running it along the pattern.
Avoid the highest areas of traffic.
Consult with the designer and homeowner whenever possible to ensure everyone is on the same page.
–
One of The Carpet Workroom's primary areas of expertise is the art of carpet seaming. Whether you're looking for a wall-to-wall project or interested in a stair runner for your stairs with turns, our dedicated team of fabricators and installers will help ensure your new carpeting blends in perfectly with the rest for your aesthetic. Make an appointment today or reach out to info@carpetworkroom.com to plan your next natural carpet style.