At The Carpet Workroom, we are constantly working on various types of carpeting and rug projects. One that we regularly get requests for are stair runners. A stair runner has always been a popular and favorite flooring option to install in homes for both its looks and benefits. 
If you're looking to get a stair runner installed in your space, or perhaps you're thinking of changing one you already have installed, it's important that you have a general idea of the stair-runner decision-making process before you dive right in. We've put together this guide to highlight the important details you should keep in mind before you start on a stair-runner project.
What is a Stair Runner?
Put in the simplest terms, a stair runner is a finished carpet broadloom that is shaped out to be placed over a set of stairs. Stair runners are just one way that stairs can be covered. You can also go with a wall-to-wall carpet or stair treads. What makes a stair runner unique is that it's not intended to cover the entire set of stairs, like wall-to-wall carpet, nor does it have any gaps between each step the way stair treads do. Rather, it only covers a certain width of the stairs while still showing off some of the original stairs. The final result is a staircase with an elegant look!
Why Should I Install a Stair Runner?
Installing a stair runner is much more than just a stylish addition to your home. Having one installed also carries benefits that will have you thanking yourself later for the installation.
Protect Hardwood Flooring:
One of the main reasons you might want to get a stair runner installed is because of the added protection it provides to your set of stairs, particularly if you have hardwood floors. A stair runner not only protects that flooring, but it also allows it to last much longer. Also worth noting is that when stair runners are installed, there is a padding placed underneath so your stairs are receiving the ultimate protection they deserve.
Add a Decorative Touch to your Home:
Stair runners are a stylish way to bring some life into your home. They offer the flexibility to design a look that will truly stand out. With so many different colors, patterns, carpet materials, and various small details to choose from, a stair runner can be a great way to make your home unique. You have the opportunity to make a statement and create a look that truly reflects your creativity.
Cover up High-Traffic Areas:
Over time, high foot traffic can leave damage on flooring or cause fading. Instead of having the flooring replaced, you can invest in a stair runner which will help cover up those blemishes. At the end of the day, you'll be adding an elegant touch to your home and could even be saving yourself some money down the road.
Prevent Slipping:
Many people like to walk around their homes in socks, however this can be a risky situation if you have hardwood flooring on your stairs. Accidents can easily be avoided by installing a rug runner on your stairs! Stair runners easily add a layer of traction so you can travel up and down your stairs without the worry that you'll slip. These make especially great additions to homes with children or elderly folks.
Absorb Noise:
Whether its kids racing down the stairs or constant foot traffic, stair runners are a great way to cover up noise pollution. The carpet will absorb footfall noise and can instantly quiet down a home. If your objective in installing a stair runner is to cut noise pollution, you would want to choose a thicker carpet material.
What Installation Styles are available for Stair Runners?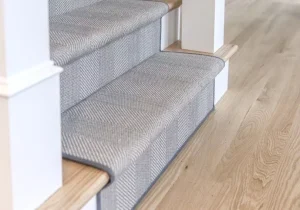 The two most common stair runner styles you can go with are called "Hollywood" and "Waterfall." With the Waterfall style, the carpet material is brought over the edge of the tread and straight down the riser to meet the next tread. The drop over the edge gives your stair runner a waterfall look as it cascades down to the next step.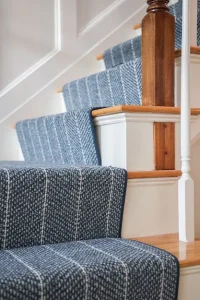 Contrary to the "Waterfall" look, the Hollywood carpet involves attaching the carpet material directly to the staircase by stapling the runner under the nose of the stair. To learn more about the differences between these styles, refer to the blog post Hollywood vs Waterfall: Which Stair Runner Installation Method Should I Go With?
What Are The Best Materials to Use for Stair Runners?
There are a variety of carpet options to choose for your stair runner. However, when picking out a carpet material, you have to take many things into consideration before making that final decision. Here are a few material options and what you should mull over while considering your final choice.
Wool: Wool has consistently been a customer favorite for their stair runner projects. It is naturally durable and will certainly last many years on your stairs due to its resiliency. It is a perfect option for high foot traffic areas, as it does not show wear paths. A golden rule when choosing a wool carpet is that the flatter the wool, the better it will hold up on your stairs. It is important to keep in mind that wool is a premium material that typically carries a higher price tag than the other materials.
Wool Blends: Wool blends also are great for stair runners. Wool is often blended with a synthetic material like polyester or nylon to add some strength while maintaining its softness. Blending the material also often decreases the price, which is another benefit of a wool blend. Learn more about Why Wool Blend Carpets Are a Great Investment.
Synthetic (Nylon, Polypropylene, Polyester, etc.): Synthetic materials are made to stand the test of time. Because of their composition, they are often easier to dye as well. If you are looking for a stair runner with a solid texture but has a pattern or color, synthetic materials are often your best bet. They are typically easy to spot clean and will last as long as, if not longer, than a wool rug. The price point for most synthetics is also usually lower than a 100% wool rug. The most important thing to consider is the thickness of the rug and how it will look when installed over stairs.
Natural Fibers (Sisal, seagrass, and jute): While seagrass is not recommended for stair runners due to its hard texture, sisal and jute are great alternatives to use as a natural fiber stair runner. While many customers are turned off by the rough texture of sisal rugs, the material can be a great option to use on stairs where you are not typically walking through. Sisal and jute stair runners can add a natural, casual look to a room. These natural fibers are typically on the lower side of the price range as well. The main drawback is the ability to spot clean, as sisal rugs often leave water spots.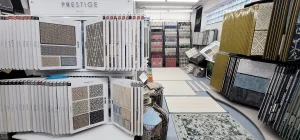 At The Carpet Workroom we have a vast variety of materials and styles to choose from. If you're ever in doubt, our project managers will work alongside you to make sure you choose the right carpet material!
When picking out a material you have to take many things into consideration before you make that final decision. The type of material you can choose can impact what you want your stair runner to achieve.
For example, if…
You are seeking comfort, or something soft, your best choice would be to go with wool.
You want a tougher material that can be used for high foot traffic areas, we would recommend a synthetic material. However, some wool blends may also achieve a similar result along with some added comfort.
You have any dogs or cats at home, we suggest you skip the natural fibers and wool, and go with a synthetic material that is built to last longer.
Prepping Your Stairs for a Carpet Runner
If there is already a carpet runner on your stairs, this will need to be removed before adding a new runner. Next, carpet padding should be installed before the carpet for an extra level of protection. Don't worry – you don't need to do any of this yourself. Our professional team of carpet experts can prep your stairs and install the stair runner of your choice.
Stair runners are great investments that make a great addition to any home! If you're ready to get your stair runner project started, reach out to us at info@carpetworkroom.com with pictures and measurements of your space, and any photos of what you have in mind. Browse our image gallery for design inspiration. We will get back to you with the next steps in the installation process.
Browse carpet options on our online rug shop or make an appointment to visit our physical showrooms in Needham, MA or Stoughton, MA.