If you follow us on social media, you might have seen our feature with Better Homes and Garden "Carpet Is Back —6 Trends That Prove the Flooring Material is Better Than Ever Before."
Writer Kristina McGuirk tells readers six reasons why carpeting has returned as a trend. Acknowledging that carpet has "lost popularity to hardwoods, luxury vinyl flooring and other floor coverings," she noted that carpet is making a comeback, thanks to comfort being "paramount" during the COVID-19 pandemic.
We here at the Carpet Workroom were excited to be featured not once, but twice in McGuirk's list! The first photo featured was from one of projects back in 2020 at a beautiful Needham, Massachusetts home. The style featured was"Ticking Stripe", in the color "Pearl." The Carpet Workroom is most known for our transformative stair runners and custom area rugs —the two sections we are featured in. McGuirk interviewed our co-founder and CEO Matt Lovetere, where he explained that "Aside from an exciting design aesthetic, stair and hallway runners add an extra layer of safety on those slippery hardwood floors." He also shared that "While people are spending more time at home than ever before, safety and practicality have become integral parts of a designer's approach."
McGuirk also highlighted "Cozy Living Spaces," "Open- Concept Dividers," "Pet-Friendly Flooring," "Updated Wall-to-Wall Carpet," and "Inviting Neutral Colors" as reasons why carpet is back on trend.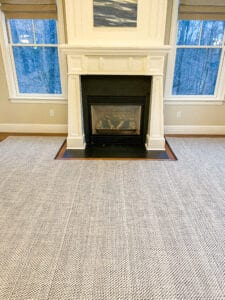 The second trend we were featured in was "Updated Wall-to-Wall Carpet," where we go into detail about how wall-to-wall carpeting has been adapted to a new concept. Instead of covering up beautiful hardwood floors entirely with carpet, there is an opportunity to make area rugs custom to your space. Matt noted that "broadloom carpet has finally caught on by manufacturing oversized materials. These 15- foot and 16-foot width allow us to make near room-sized rugs as an alternative to wall-to-wall carpeting." He also explains that "the design is called "cut-to-fit" because the carpet follows the contours of the space-curves and all-and stops before reaching the wall to reveal the flooring around the perimeter of the room. The installation lets both hard and soft flooring materials shine."
Matt and the whole Carpet Workroom family were excited to share our work and thoughts on resurgence of carpeting trends with Better Homes and Gardens' readers. If you have any questions or would like to inquire about a project, please email us at info@carpetworkroom.com thank you!