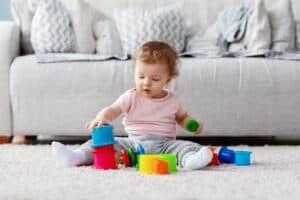 Hello, summer 2021! We've been waiting for you. We're definitely ready for a fresh start after the craziness of last year. While 2021 may still have some of us cuddled up at home, there's something beautiful about hitting the reset button and starting fresh.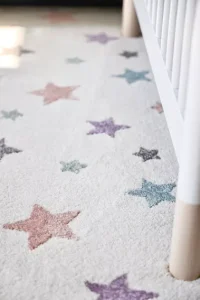 The nursery is home base for parents of new little ones so it's extra important that it brings joy to all who spend time in it. Fortunately, there are tons of amazing new products out there designed to make your days in the nursery a bit brighter and most importantly, easier. And we could all use a bit more ease right now.
We know at some point in your nursery transformation, an area rug is one of the key details that you're looking for. If you don't know where to start, let us know, we'll be happy to help! One of our owners, Matt, just recently decorated a nursery ahead of the arrival of his first child and he selected what he considers to be the perfect rug for a nursery. It's called "Celebration" and it's the perfect combination of a soft touch and a playful pattern that captures everyone when they walk into the room.
Matt and Evelyn welcomed baby girl, Vida Rosario Lovetere into the world on April 20th of this year. Here's how they arrived at their choice for an area rug as well as some of the other decor they used for the space.
What was your inspiration for Vida's bedroom?
It's funny, we really didn't have any particular "inspiration" for this room. We looked on Pinterest and Google for photos of nurseries that fit our aesthetic but didn't find anything that really spoke to us enough to emulate the look. We knew we didn't want the space to feel "cookie cutter" so we tried to just be ourselves and create a unique look. The first piece we found and purchased was the rainbow wall hanging you see in the photo above. It is placed in the very center of the room between the windows and helped us hone in on the pastel color palette. From there, we decided to look for decorations and prints inspired by nature and natural phenomena like rainbows. This helped us select the ice cream pillow, the plush watermelon toy on the cloud shelf, the succulents in the window, and of course the stars in the area rug.
What made you select the material you chose? How about the color?
It was a lot harder than we expected to find an area rug that we could both agree on. Evelyn wanted something super soft and I wanted something light and bright with pops of several colors. We started with some samples of wool products with candy stripes and even a Missoni pattern but those were all nixed by Evelyn because they felt too "scratchy". I tried keeping it a natural material instead of synthetic so I tried looking at a few tencel products to appease the softness criteria but I was talked out of it because of the challenges with cleaning that type of silk alternative. In the end, we decided to open up the search to synthetic material and through the process of elimination chose "Celebration".
Another major challenge was the color. You wouldn't believe how difficult it is to find a rug in a true white. Most wool products are more cream and they looked really yellow in the space. Then to find a true white in a baby/kid friendly pattern eliminated a ton of options. We love color and both agreed we wanted to splash pops of every color of every color of the rainbow in the room so the pastel pink, purple, blues and greens in this particular style worked perfectly to capture the whimsical vibe we wanted in this nursery.
How far in advance did you start the project?
We moved into our condo in East Boston in December of 2018 and were engaged to be married by Valentine's Day. We held off on decorating the guest bedroom because we knew at some point we'd want to transition to a nursery. Our planning really ramped up last spring when we were sheltered at home during Covid. This room was really in the works for over a year before we started actually decorating. We purchased the rainbow wall hanging from Crate & Barrel last April and it snowballed from there.
What other design elements did you use for the space? Where did you purchase them?
Because we wanted to use splashes of color throughout the room, we wanted to walls and furniture to stay very neutral so all the colors really popped. We wanted a light colored grey for the walls so we used Benjamin Moore, Shoreline throughout the entire apartment. We purchased the matching crib and changing table from Babyletto which are amazing. Everything else we found along the way. I think the rocking chair was from Wayfair and we found the map at Marshalls/Homegoods. It was really easy to find accents once you take care of the larger fixtures because there are so many great resources nowadays!
What advice would you give to young parents struggling to decorate a nursery?
The best piece of advice I can give is to be flexible and open-minded. Unless you have a true vision of what you want to create it's really hard to find the "perfect" design elements. I never thought that we would select this star pattern for the rug, but in hindsight it's the perfect area rug for Vida's nursery.