At The Carpet Workroom, working with interior designers often produces our favorite projects. Our design partners are usually working on multiple rooms in the same house at a time. They are reviewing all kinds of samples. Paint, wall coverings, fabrics, fixtures, and of course carpet! Our in-house design team gets all kinds of inspiration from watching designers work.
This week we are featuring a collaboration between The Carpet Workroom and Ana Bonilla of AnaVera Designs. Ana came into our Needham showroom looking for a custom stair runner as well as a living room rug for her client located in Newton. A in-house design consultant met with Ana, who shared a variety of wallpaper and paint samples that were being considered for the project.
Ana's design style is modern but eclectic, and I was immediately drawn to the beautiful wallpapers and colors being used in the project. Here is a glimpse of the project before The Carpet Workroom added some magic touches.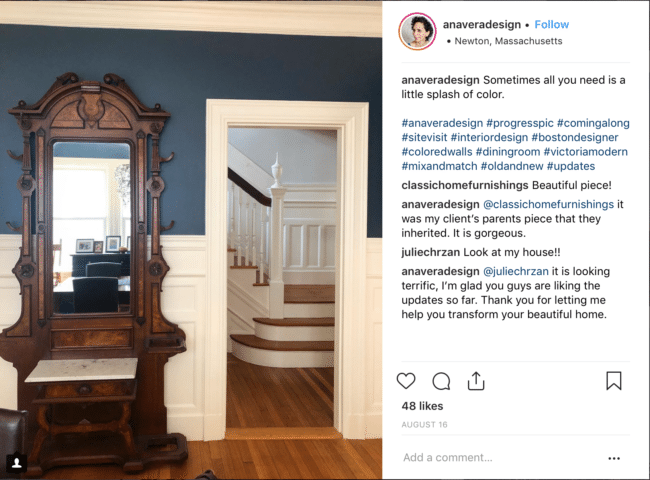 The Process
Ana wanted the runner and the living room rug to be natural, but to add some texture and calmness to the space. We worked together to select some wool carpet samples to review with her client that would complement the rest of the house. Wool is ideal for stair runners and area rugs since it is soft, durable and very easy to clean. For stair runners, flatter wools are often preferred because they are easier to mold over stairs and around corners.
In this particular project, the woodwork paneling and curved bottom steps were stunning. We are glad that Ana and her client could see the benefit of adding a stair runner.
After reviewing the samples with her client, Ana advised me that they had selected the Prestige Mills product Lawson, color Snow for the stair runner. They had also decided on Momeni product Pebbles, color White for the living room rug. Both are extremely soft, have a beautiful texture and are 100% wool.
Because of the light color of these selections, we also added our 100% green stain guarding protection to help ease any worries about staining.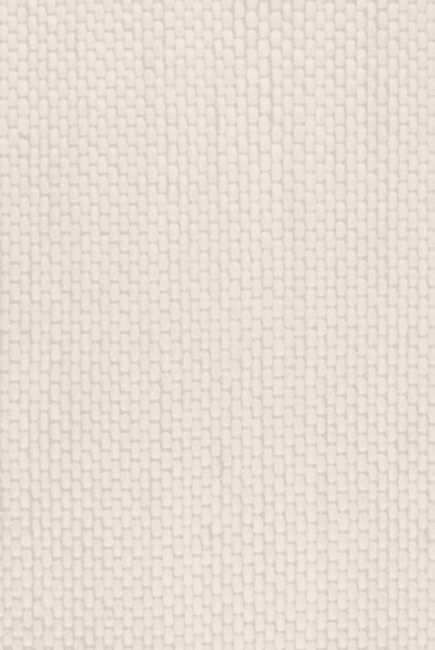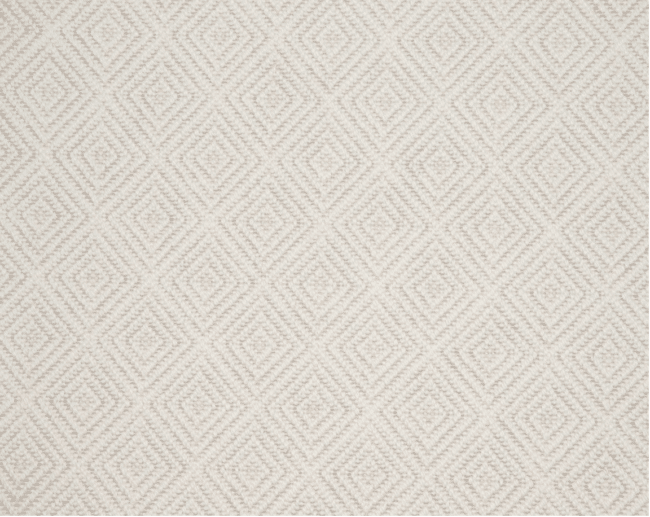 While Ana and her client were reviewing and narrowing down samples, The Carpet Workroom team stopped over to take concrete measurements for both elements. So when materials were selected, we were able to quickly put together an estimate for approval. Once approved, the materials were ordered and installation was scheduled!
This process typically takes 4 weeks from the time of ordering to the time of install, but in this case the stair runner material was on backorder. We communicated this to Ana to set expectations for her client, and accommodated everyone's scheduled for a installation as early as possible.
For the stair runner, one of the last design elements was selecting a cotton binding for the edge of the carpet. We often aim to choose a color that blends in with the color of the carpet, but Ana came up with the idea of adding a pop of color to the edges. This turned out to be the best decision yet! We have hundreds of color options for narrow cotton edging, so we were able to find a beautiful grey-blue option that perfectly complemented other features in the house.
Installation Day
On installation day, Ana was able to oversee the stair runner install and we loved following along on Instagram stories. There is nothing more satisfying than watching the design come to life and having both designer and client loving it!
Here are some after photos of the final project! You can check out more on Instagram by following AnaVera Designs at @anaveradesign as well as @thecarpetworkroom!