Stair Runner FAQ's
We recently released a blog that helped guide you through the stair runner process. It's a great starting point for selecting what style of carpet you want to install and things to consider when working with us. Recently we've been getting a lot of questions that we didn't answer in that blog.
Frequently Asked Questions
I'm moving and want to install a stair runner in my new place. Should I have this installed before or after I move?
Given the traffic of movers up and down stairs in your new house, we recommend you have your runner installed after movers. It's great to start the process before you move in so as soon as you're moved in, we are ready to install! The process from ordering to install is about 4 weeks.
I need to have my stairs refinished/repainted, should I do that in advance? How far in advance?
The answer is yes. Any wood refinishing or painting should definitely be done before installation of your stair runner. We would hate to put a beautiful new stair runner in your home only for it to get ruined with a drop of paint! We also want to make sure everything is completely dry before install, so at least 3-4 weeks is recommended.
How much wood should I show on either side of my stair runner?
This definitely varies since each staircase is unique. However, 3-5" on either side typically looks great. We will always advise on the best width for your runner and we will always tell you if something is not possible on your stairs. It is also helpful to look through our gallery of installation photos to see what is preferred for your project.
Are bigger patterns or smaller patterns better for stairs?
There is no 'right' answer for this one. Depending on the width of your runner, larger scale patterns may not show enough repeat. There is a chance you can lose the pattern altogether. Smaller patterns tend to read as textures. Customers are sometimes concerned smaller patterns will be dizzying or distracting on stairs, but it often works the opposite! With stairs that have many pie shaped steps or landings, it's important to be clear how the pattern will sit on the stairs. Here is an image of a simple pattern that can be complicated with all of the pie steps.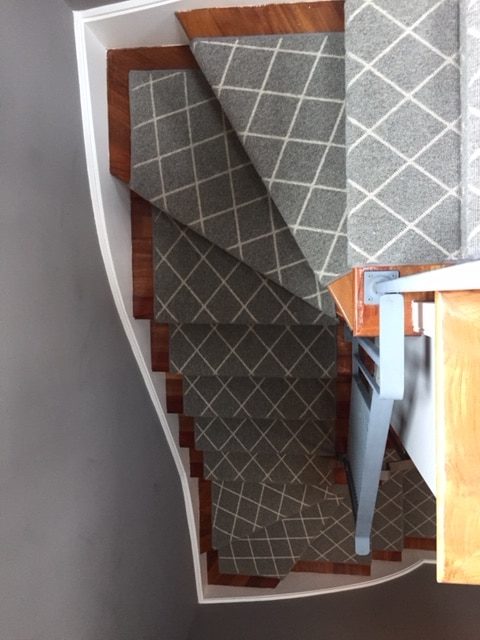 As always, our sales and installation teams are here to guide you through this process. We want to answer any questions you may have ahead of time so that there are no surprises the day of installation or delivery. Feel free to comment here or email us at info@carpetworkroom.com with any other questions!