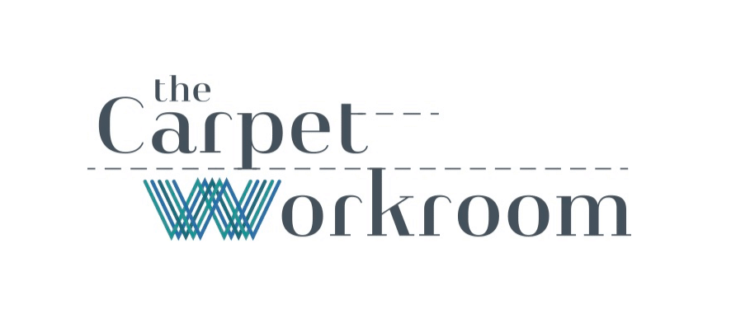 You may have noticed a change in our appearance recently. Don't fret, we have not changed ownership and you are not losing your mind. We simply felt like we needed to refresh the brand that was first conceptualized in 1996. At that time, we chose our aesthetic to associate with the colors/style of the time; reds, golds, borders etc. Two decades later, not only have the trends changed, but so have we. One major development still yet to come is our new website that we hope to launch later this summer. For now, you'll start seeing slight changes to the look and feel of our various social media platforms as our new logo was the first element of the project to be published. Here's a close look at what we considered and finally arrived at for our new identity:
The word "workroom" is often used as trade term meant to describe a service based business that offers custom fabrication for a particular product. In our case, that product is broadloom carpet. Our goal from our inception was to become the industry leader in the sales and services of carpets and rugs. It only made sense to name ourselves "THE Carpet Workroom".

If you look closely, you'll see that the "t" in "carpet" and the "k" in "workroom" are sewn into the stitching that serves to divide the two words. We've essentially embroidered our name to the page you're viewing.

The "W" was designed and chosen to highlight the word "Workroom". It also serves to identify ourselves as workers. It's our work ethic that has set our company and family apart from our peers. It's something we carry with pride like a family crest.

The "W" is comprised of 5 yarns woven together to make up a whole. Each yarn represents a member of our immediate family; Kathy and Peter (parents) and Matt, Billy, Maggie (children).

Blues and greens are synonymous with nature, especially along the coast. We are New Englanders and have always gravitated toward the aesthetic of the forest and sea. We wanted to include this in our identity.

Everything we do involves an element of geometry. Whether its the products we sell, diagrams we draw or the fabric we cut, our lives are filled with shapes and patterns. We tried to capture that with the diamonds and chevron that appear in the "W" where the yarns intersect.
Stay tuned for more updates. If you have any questions or feedback, please send an email to info@carpetworkroom.com.