Stair Runners: Everything You Need to Know
Stair runners are our bread and butter here at The Carpet Workroom. Of course many of our retail customers are not well versed in carpeting and we provide many recommendations and things to consider when shopping for a stair runner.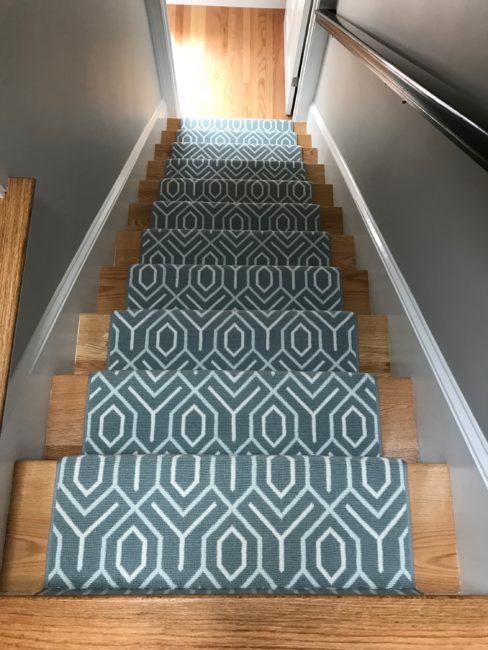 Types of Stairs:
The first thing to consider when looking at adding a stair runner is the stairs themselves! The simplest and most common set of stairs are a straight set, like the ones pictured above.
Straight Stair Runner: A typical straight stair runner has 12-13 steps. Bringing in photos and basic measurements of your stairs is a great place to start. We offer many pre-made stair runner materials as well as carpet remnants that are perfect for straight sets of stairs.
Stairs with a Landing: The second most common type of staircase we see are those with 12-15 total steps, with a small landing in between. Some sets have multiple landings, and these often require us to come for a site visit to measure the stairs and the landing. However, when coming into the showroom to browse materials, photos of the stairs are typically enough to provide an estimate.
Stairs with Pie Turns: Stairs with pie turns always require a measurement prior to installation. We can typically quote based on the photos but our installation team must measure the steps. This is to ensure the carpet is cut at the right angles. In cases of larger patterns, it also ensures everything matches up.
Helpful information to bring with you when visiting the showroom for your stair runner:
Overall width of stair
Desired runner width (if specified, we are also happy to recommend!)
Approximate size of landing
Overall number of steps
Type of Material:
Wool: Wool is typically the most frequently used and most recommended material for stair runners. It is naturally durable, soft on the feet, and will last many years on your stairs. Wool is the most common material here at the showroom and we have thousands of wool options for any style stair runner. The flatter the wool, the better it will hold up on your stairs. It is important to keep in mind that wool is typically the most expensive material. The more color or pattern, the higher the price tag. When in the showroom we can work with your budget to guide you to the right material selection for your stair runner.
Wool Blends: Wool blends are also great for stair runners. Wool is often blended with a synthetic material like polyester  or nylon to add some strength while maintaining the softness of the wool. Blending the material also often decreases the price, which is another benefit of a wool blend.
Synthetic (Nylon, Polypropylene, Polyester, etc): Synthetic materials are made to stand the test of time. Because of their makeup, they are often easier to dye as well. If you are looking for a stair runner with a solid texture but a pattern or color, synthetic materials are often your best bet. They are typically easy to spot clean and will last as long if not longer than a wool rug. The price point for most synthetics is also usually lower than a 100% wool rug. The most important thing to consider is the thickness of the rug and how it will look when installed over stairs.
Natural Fibers (Sisal, seagrass, jute): While seagrass is not recommended for stair runners due to its hard texture, sisal and jute are great alternatives for stair runners. Many customers are turned off by the rough texture of sisal rugs, but on stairs where you are not spending much time, sisal is a great option. Sisal and jute stair runners can add a natural, casual look. These natural fibers are typically on the lower side of the price range as well. The main drawback is the ability to spot clean, as sisal rugs often leave water spots.
Materials to Avoid: Silk, linen, thick plush carpeting
How to Read our Estimates:
When evaluating your stair runner estimate there are a few things to note.
Material Size: Broadloom material installed as a stair runner has some funky nuances. Broadloom material often comes 12′ or 13'2 wide. Therefore, we do not simply roll out the carpeting to install it on your stairs. Instead, the roll is cut into segments to cover 2-3 steps at a time. There is no visible start and end point noticeable to you, and we work tirelessly to align the pattern. For a straight set of stairs, a 12 or 13'2 x 6 piece is typically required. This will help understanding your estimate.
Hollywood vs Waterfall: We have published a few other blogs regarding this installation choice. Our standard installation method is waterfall, and this uses less material and is less expensive to install. In this case, the material flows naturally over the stairs and is tacked down at the base of the step. Hollywood style is tailored around the stair tread. This method sometimes requires more material and comes at a higher installation price.
Rug Binding: Finishing the edges of your stair runner is an important decision. Often times customers ask us to match the color to the rug. This allows us to finish off the edges with the cotton binding that blends in best with the material. Other customers prefer a contrast or accent color and we have samples at the showroom that you can choose from.

Standard cotton binding is 1.25″ wide but gets folded along the edges, showing up to 1″ of cotton material. Other materials and larger widths are available at a premium.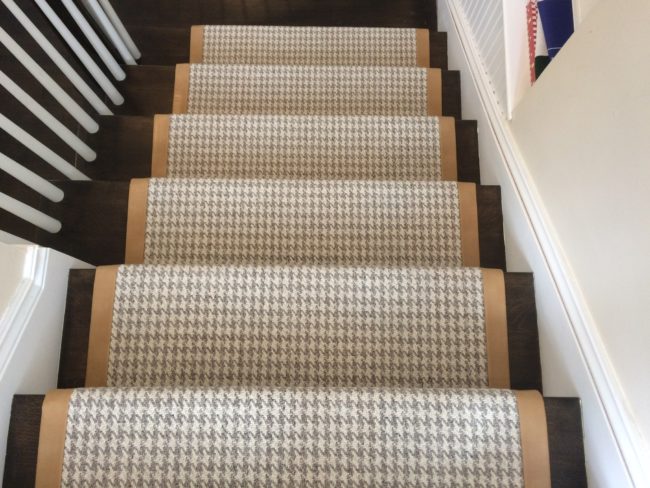 Where to go for inspiration?
Our website and social media platforms are great resources for the work that we do.  We pride ourselves on having our high quality work easily accessible to current and future customers looking for inspiration. We love featuring happy customers on our social media pages! The Carpet Workroom links can all be found below:
Other FAQ:
Do your prices in the showroom include installation?

No, our prices are for material costs alone, and installation pricing is calculating on top of that.

What goes underneath the stair runner?

We recommend a 40 oz felt pad underneath the stair runner. This is included in all of our estimates unless otherwise specified.

Can I use a remnant for my stairs?

It depends on your stairs. Straight sets of stairs and stairs with one landing are the easiest to utilize a remnant for. We can typically evaluate your stairs based on photographs and estimate a remnant size you may need.

What is your timeline?

As soon as a 50% deposit is received and an order placed for in stock stair runner material, we schedule installations 3-4 weeks out. If material is non-stocking, it may take longer depending on the timeline.

Can I borrow samples?

Of course! We allow our customers to borrow samples from our showroom for up to a week. We are also happy to order complimentary samples straight to your home that you may keep. These take 3-5 business days.
Fill out a custom form below and let us help you with your stair runner project!