Carpet Recycling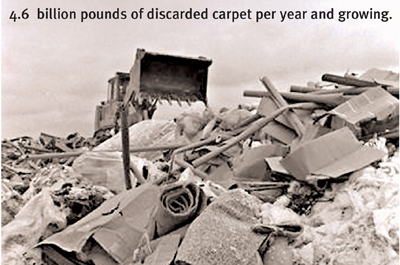 As consumer demand increases for recycled carpet and products that contain recycled compo­nents, carpet and fiber producers are pursuing programs that reduce, reuse and recycle raw materials. Studies by the U.S. Environmental Pro­tection Agency show that more than 2 million tons of used carpet are dumped into the nation's landfills annually. Massachusetts, with its harsh winters, is especially wasteful with post-consumer carpet (PCC). The need for insulation and high population density pushes our state to the forefront of carpet related waste. Fortunately we are also one of the most environmentally conscious states, and the call for recycling has forced government officials to begin brainstorming how carpet can be successfully diverted from our landfills. People in the Greater Boston area, especially in communities like Needham, Newton, Brookline, Cambridge need to figure out a way to lead the charge in calling for this change since they are already ahead of the game.
Because carpet is a man-made material, it is highly recyclable. New technologies that allow manufac­turers to use closed-loop recycling, in which used carpet becomes new carpet, are now becoming economically feasible. Recycling nylon 6 into new nylon fibers has resulted in new recycling facilities throughout the nation. In cases where the carpet is not made of nylon 6, the fibers are melted, recycled and compounded with virgin nylon resins for use in other molded-machine, automotive, building or landscaping applications. Recycled carpet is being used for engine fan shrouds, air cleaners, plastic lumber, car­pet cushion and resilient flooring. As for the future, research is ongoing into the life cycle of carpet and better ways to man­ufacture durable carpet made from natural fibers, new technologies that will eliminate the energy costs associated with production, use and reuse of products.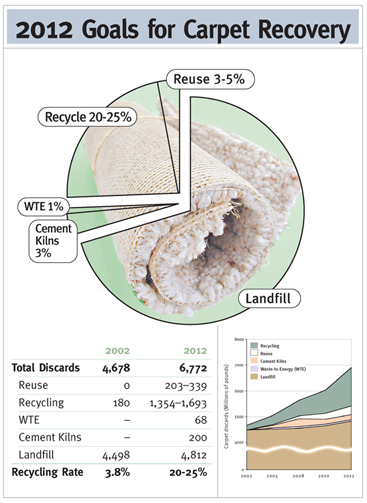 The problem now is that the process of transporting, cleaning, sorting, and recycling is an expensive endeavor. However, technological advances over the past 15 years have made the process easier and more affordable. Now the challenge becomes; how do we educate consumers about the growing number of alternatives for carpet disposal?
Our goal at The Carpet Workroom is to divert all of our recyclable waste from landfills and other potentially damaging outlets such as carpet as alternative fuel while educating our customers about the process. We are working with a few groups within the industry that will take our post-consumer carpet (PCC) and recylce it at a reasonable fee. This fee is included as a line item on our invoices so that our customers know that their PCC is being disposed of responsibly. If you choose against the recycling option, than you are more than welcome to dispose of the carpet on your own terms. We are also actively working alongside the Massachusetts Department of Environmental Protection to help create a new infrastructure to ease the transition into recycling this waste. If you want up to date information on the ever-changing carpet recycling industry, feel free to visit Carpet America Recovery Effort's (C.A.R.E.) website, https://www.carpetrecovery.org/index.php.