Elevating Your Carpet Shopping Experience
We are thrilled to announce the beginning of an exciting new chapter at The Carpet Workroom. Prepare
yourself for a refreshed and simplified experience as we unveil our newest showroom dynamic; the
elevated Carpet Gallery opening in Newton, shifting to a more budget-friendly offering in Needham, and
relaxing our appointment policy in all three locations:
Newton Carpet Gallery Opens it's Doors
Imagine a shopping experience that leaves you wanting more, where every visit offers new ideas and an
opportunity to express yourself freely. Our newly opened showroom is precisely that—a creative haven
where the artistry of carpets reaches new heights. Nestled at 230 Needham St. in Newton, MA, this
showroom is designed to inspire and captivate your imagination.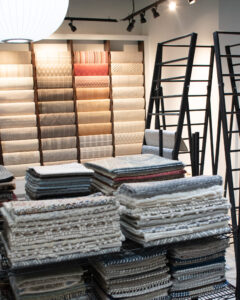 As you step through our doors, you'll find yourself immersed in an ambiance that exudes modernity, simplicity, and coziness. We have meticulously curated a collection of the most exquisite carpet styles that reflect our commitment to offering nothing short of the best. Each design has been carefully chosen to ensure that it embodies our signature blend of elegance and uniqueness. Here is where you'll find that design element you won't find anywhere else. Ranging from made-to-order oversized and seamless imports to some of the finest woven broadloom products from all over the world, this collection is
meant to inspire.
To create this visually stunning environment, we collaborated with the talented interior designer, Jess
Klein Studios, to curate a design concept for the new space. With her expertise, our showroom has
become a living testament to the harmonious fusion of modern aesthetics and luxurious comfort. Every
single detail, from the layout to the lighting, has been thoughtfully crafted to enhance your shopping
experience and make you feel like you've entered a world of pure carpet luxury.
We cordially invite you to come and explore our new showroom! Our doors are open Monday through
Friday, from 10 am to 5 pm. Feel free to drop by, say hello, and immerse yourself in the luxury of high-
end carpets, & remember to stay tuned for updates on our upcoming grand opening event—an affair
that promises to be as unforgettable as the carpets themselves.
Luxury for less in Needham
We are delighted to announce that our carpet remnants, those versatile pieces of carpeting that hold
endless possibilities, have found a new home in our Needham showroom. In a nod to our roots and
where it all began, we've created a space that pays homage to our tradition of offering a wide selection
of carpets, rugs, and other flooring styles. Our carpet remnant collection is a testament to the ever-
evolving nature of our collection—a treasure trove that is constantly updated to ensure we have a
carpet style ready for the needs of any family.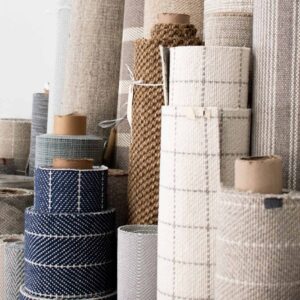 Luxury for less in Needham
If Newton is Nordstrom than Needham is Nordstrom Rack. Whether you're looking to add a touch of luxury to a small space or seeking a budget-friendly option for an entire room, our carpet remnants offer the perfect solution. From plush and cozy textures to striking patterns and colors, you'll find a wide range of options to suit your unique style and preferences. We encourage you to pay us a visit (walk-in welcomed) to explore the versatility and beauty that lie within our carpet remnant collection. Our knowledgeable team will be more than happy to guide you through the available options and help you find the perfect fit for your project.
Relaxed Appointment Policy
In our ongoing effort to provide you with the best possible service, we are thrilled to announce that we
are relaxing our appointment policy. We understand that convenience is key, and that's why we now
welcome walk-ins to any of our showrooms. This means you have the freedom to explore our carpet
collection at your own pace, taking in the textures, colors, and designs that catch your eye. However, if
you prefer a more dedicated and one-on-one shopping experience, we highly recommend making an
appointment with one of our project managers. They will ensure that your custom fit/cut carpet
projects, unique stair runners, or complex carpet projects receive the attention they deserve. Our
project managers are well-versed in matching specific carpet styles to individual homes, making your
carpet selection process seamless and stress-free.
Most importantly, we want to extend a warm invitation to you, our valued customers, to join us in this
exciting new era at The Carpet Workroom. Our spaces are waiting to be explored, and we can't wait to
welcome you with open arms. Whether you're seeking the pinnacle of luxury or a versatile remnant for
your project, we have something for everyone. We even offer professional carpet installation services
for local customers.
So, don't hesitate—pay us a visit and immerse yourself in a world of exquisite carpets. And remember,
at The Carpet Workroom, we're not just selling carpets; we're crafting experiences that will transform
your home. Stay connected with us through our website and social media channels to stay up-to-date
with the latest news and behind-the-scenes glimpses of what's happening at The Carpet Workroom.
Thank you for your continued support, and we look forward to serving you in our new showroom
location!
Warmest regards,
The Carpet Workroom Family