At The Carpet Workroom, we like to give our clients the freedom of personalization by giving them the ability to choose how they want their carpet finished. When carpet materials are sent to us from the mills, they are missing the outer layer that covers the edges which is also known as the "binding". This allows our fabricators to cut out the carpet material and add your personalized details before it's delivered to you.
Binding is one of the most important steps that you must take into consideration when personalizing your rug or runner project. Below are some of the common questions that you should ask yourself when picking out your favorite style.
What is Carpet Binding?
Before you actually start picking out a binding it's important that you know why it is added in the first place. Keeping this in mind can help you better understand the direction you want to take in your decision-making.
So what is carpet binding? It's a long strip of fabric stitched along the edge of a broadloom carpet. The purpose of this material is to extend the life of your product. By wrapping the edges with fabric we are adding a form of protection which keeps the carpet material from unraveling. Without any binding, you are exposing the edges of the carpet material and you run the risk of your carpet falling apart over time.
All in all, binding not only offers a stylish look, but it also ensures that your product can withstand typical wear and tear.
How do I pick the right binding?
While you may be amazed by all the various options you can choose from, it's important to keep in mind that not every carpet material pairs well with every binding material you might have in mind. Likewise, some binding types should be avoided, depending on the carpet material you're working with. If you mix & match the wrong binding with your carpet, you run the risk of damaging the carpet material and accelerating its wear and tear.
Our project managers are equipped to guide you through the process, making sure you choose the binding that is best for both your home and your carpet material. If you're ever in doubt, just ask and one of our project managers will present you with the best options available.
What are the different styles of binding?
Luckily, binding comes in many shapes and sizes. You can finish your carpet with a variety of binding styles to give it your own personalized look:
Narrow Cotton Binding: If you want your binding to be more low-key, this style will be your best bet. Narrow binding typically uses cotton or polyester materials. This look still offers protection to your finished carpet without having to take away attention from the actual carpet material.
Wide Cotton Binding: We recommend this option if you want your binding to stand out from the rest of your finished carpet. You can expect more protection as it covers most of the edging. Wide binding is typically made with cotton but also premium materials such as leather, linen, or twill.
Serging Yarn: This style uses a continuous yarn to create a narrow edge. What's unique about this binding is that it produces a more handcrafted look that is more intricate than other styles. While serging can be applied by hand, The Carpet Workroom typically applies it by machine for the cleanest result.
What sizes are available?
Aside from the different types of style, you can narrow down your options by choosing a binding based on size.
Binding Size guide:
If you want a more subtle look you might select for a binding that is 1.25" which simply wraps the edge of the rug.
A binding that measures 3" works best to create a more casual bordered look. You can show up to 1.5 inches on the face of the rug or runner.
We also have a 5" option which makes the binding pop out while also covering a sizable amount of edging. A 5 inch binding allows you to show more than 2″ on the face of the rug or runner.
What are the different types of Carpet Binding Materials?
There are four popular types of binding materials that can be applied to your carpet: polyester, cotton, leather, and linen.
Polyester: This is also commonly known as synthetic binding. This type of material guarantees your finished product will receive the best protection against any environmental factors. Given its durability, we recommend you choose this option if your finished carpet will be located in an area with high foot traffic. This option will also pair well with indoor/outdoor materials.
Cotton: Cotton is usually the go-to material for a more visually appealing style. Cotton's versatility allows you to choose from a variety of sizes and colors available. Cotton is more expensive than poly but it gives it a cleaner finish. It's also a very cleanable fabric so it works well in areas of high traffic.
Linen: Despite its resemblance to cotton, this material is considered as a more durable option given its bulkier and thicker characteristics. It is also more resistant to fading, providing you peace of mind that it will hold its true colors over an extended period of time.
Leather: We would consider this as one of our finest and most beautiful materials available. Leather will offer extra protection with its tough durability. As leather breaks down, it produces a sheen that will give the binding a stylish look throughout its whole lifetime. We offer both real leather as well as faux leather binding options.
What's the right color to choose?
Once you have a good understanding of which type of binding you want for your carpet, you can start looking into which color you want. The color you decide on is completely up to you.
When choosing a color, one common rule of thumb is to also consider the color of your rug or stair runner. With that color in mind, you can decide if you want your binding to have contrasting colors or coordinating colors:
Contrasting colors: These are binding colors that will be more recognizable from the rest of the area rug or stair runner. In other words, these colors will jump out and easily grab your attention providing an outline of the rug or runner.
Coordinating colors: These are colors that will give the binding a more subtle look.. You might prefer this option if you don't want to take away the attention of your area rug or stair runner and simply want it to fade in.
One important detail to keep in mind is that not every material is available in every color. Based on the binding style and material you opted for, your project manager will show you the options that are available; if your desired color is not available, we'll present you with the best alternatives.
Truth is, there is no wrong or right color to choose. As long as it meets your standards and you are happy with your choice, then you have chosen the right color for your binding. Don't be afraid to ask your project manager for some inspiration!
Can I add any extras to my carpet binding?
Many people like to accessorize their carpet binding to give the area rug or stair runner an added layer of style. A popular accessory that our customers like to include in their binding are metallic nail heads.
If you want your binding to make a statement, then nail heads are the way to go. These are typically applied onto a binding to give it a more classy look. Nail heads are intended only to be applied onto a wide binding material, like leather. While nail heads can be applied to rugs, they pair up perfectly with stair runners.
How is Carpet Binding applied?
Once your area rug or stair runner has been cut out and prepared for your space, it is now time to apply the chosen binding. Carpet binding requires patience and precision to ensure that it is properly attached to your final masterpiece.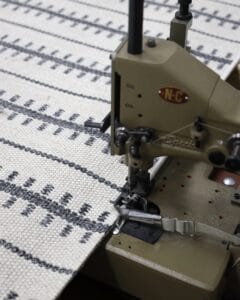 All of our binding is attached by using a carpet binder, very similar to a sewing machine, commonly known as a binding machine. This machine offers a quick and precise method to rapidly attach the binding material, rather than doing it by hand, which can delay the process.
The first step is to place your area rug or stair runner on an air table. This table allows our fabricators to move the carpet around without having to deal with its weight and its size. That way, they can focus more on proper placement of the binding. Finally, our fabricators complete a final quality check. This includes completing any final touches, such as cutting off excess material and making certain the binding is properly attached.
How long does binding last?
It's hard to tell exactly how long a binding will last, but what is guaranteed is that carpet binding will maximize the life of your finished area rug or stair runners. The lifespan of binding is expected to equal your carpet material's life.
With that being said, there are various factors to take into consideration that can impact the longevity of your binding and carpet material. For example, the placement and how often people walk through this area can be great indicators of how long the product could last. Wear and tear are typical and expected for a carpet, but a binding can slow down that process so you can enjoy your product for as long as possible
—
Are you ready to start picking out your favorite carpet and binding styles? You can reach out to us at info@carpetworkroom.com and a project manager will help you get your project started!
Once you have picked out your favorite styles, our team of fabricators will take the extra time and care to ensure that the binding is properly placed; this all takes place in our workroom area at our South Shore location. Check out our last blog post, Sneak Peek Inside the Workroom to learn more about the other steps in the carpet fabrication process.