The summer season has been a tad bit hotter than we wanted, but that doesn't stop us here at The Carpet Workroom and our customers when it comes time to purchase carpet. Homeowners began to consider preparing their homes for the fall and winter season.
If you're new here, each month we share a little background information about three projects — including the location of where it took place and if there is a reason behind why a specific material was selected. The idea is to provide the story of "before" the stair runner and then showcase the "after" photographs with the runner installed. 
We've chosen three of July's top stair runner transformations to share with our readers. Let us know what you think about them!
New Style, New Runner (Mashpee, MA)
For this project, the homeowner worked with interior designer, Jess Schwartz who had a vision in mind when they walked into our showroom! They are avid followers on Instagram who love seeing the work that we post to our account. Their property is located in Mashpee, MA and was recently renovated! Before the construction ended, the homeowners came to us, hoping we could install as soon as the home was ready for carpet.
Jess had taken home a few different styles and had gone back and forth between samples until they fell in love with a design concept. They wanted the carpet itself to be neutral with a small minimal pattern to complement the new wood floors and brand new staircase. However, they also wanted the runner to have a pop of character. The style selected is brand new! It's considered a wilton wool, so if you have pets in the home, we will not recommend it as the small loops could potentially be pulled by your furry family members. The carpet is soft underfoot and resembles both a herringbone and stripe when you look from afar.
The homeowner paired the beige carpet with a white narrow cotton binding to contrast, but also to compliment the new white spindles on the staircase.
Check out the finished product below! If you love this product and would like to inquire about a project, please email us at info@carpetworkroom.com thank you!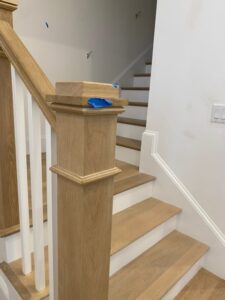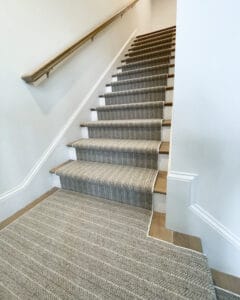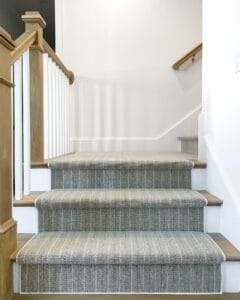 Martinique with wide binding  (Needham, MA)
This homeowner had reached out to us by using our contact form on our website! They were looking for a new stair runner for their home and referred by some friends that had used our services recently.  In their inquiry, they provided photos of the three staircases, all being different from each, but all using the same product. The homeowner wanted something neutral, trendy, and durable for high traffic areas. 
After going back and fourth with several different samples, the homeowner landed on one of our most popular styles; Martinique Silver. One of the many reasons that it has done so well is for its 15′ width and the fact it is made from all-natural, organic wool, which is a 100% renewable and biodegradable resource. So if you are looking for an eco-friendly, non-toxic, and hypoallergenic carpeting to put in your home, this could be the option for you! We also offer the color, Charcoal as well.
This product has proven its durability between lots of people in the home, to pets, and withstanding different weather conditions! What our customers love about this product is that it is neutral enough to bring light into a home, but is forgiving with the darker specs that are in the foreground of the carpet. The other plus is that Martinique can be paired with almost any kind of edge finish and color! The homeowner went with a wide navy cotton binding for their custom runners, and we love how it came out!
If you're interested in this product and would like more information, please reach out to us via email at info@carpetworkroom.com to get started!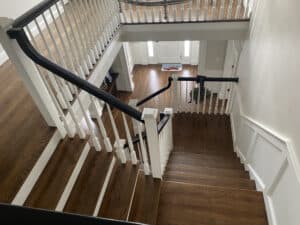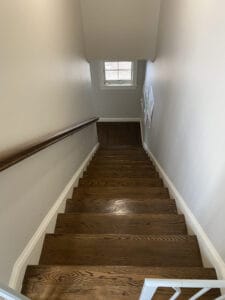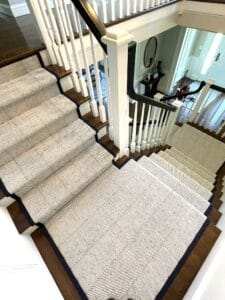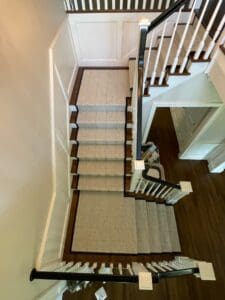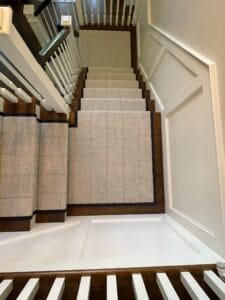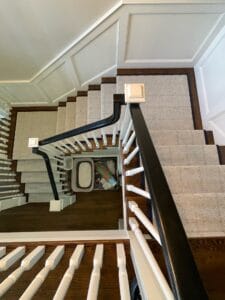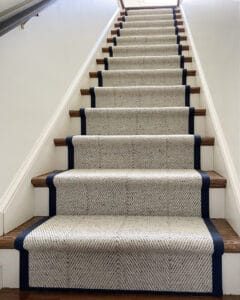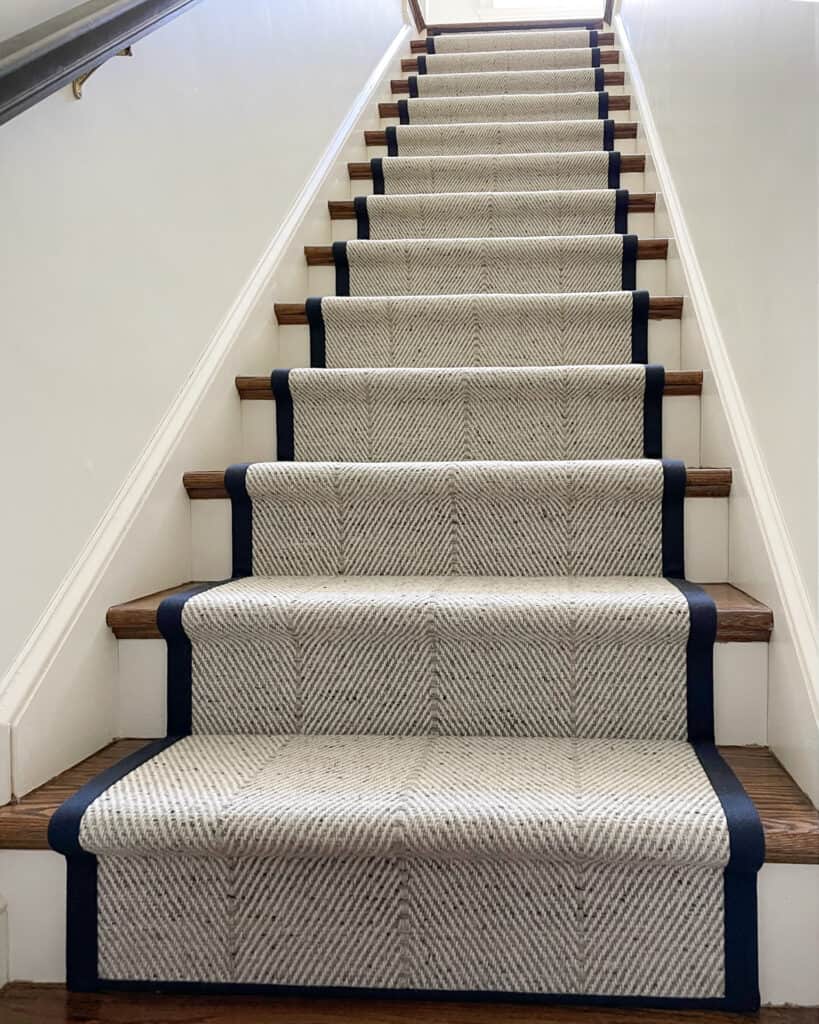 Colorful Carpet is Our Best Friend (Weston, MA)
This homeowner has always been an avid follower and had found their inspiration from one of our older posts and seen on the #stairrunner hashtag on Instagram. The homeowner came to us looking for a particular carpet; Baci by Prestige Mills. Not only is this style from a well known carpet manufacturer, but the style falls under the Missioni line. Yes, that is correct, Missoni has tapped into the flooring industry and there are now carpet styles that emulate the colorful patterns that Missoni is known for. The homeowner wanted something bright, fun, ecstatic. The style they chose checked all those boxes. It was a no brainer when the sample arrived. The final look looks better than imagined, making this the eye of the.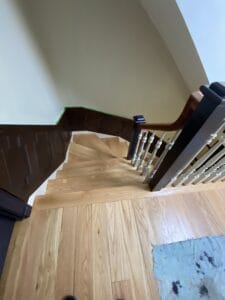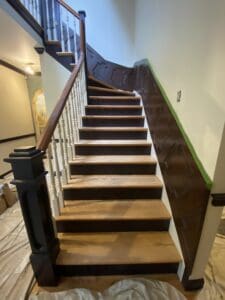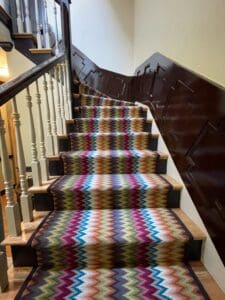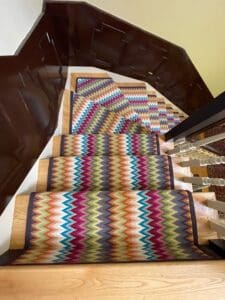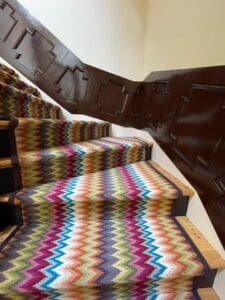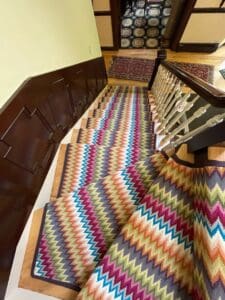 To get started on your stair runner project with us, please email us at info@carpetworkroom.com with the following details.
Where you are located

Photos of your staircase, hallways or space

The style you have in mind for this project (can be screenshots from our Instagram or Pinterest accounts)

The budget you have for this project

If there are any pets or children in the home!