How New Carpeting Can Help You Prepare For The Winter Season
The winter can be a very messy and cold time of year, especially here in New England. The carpet buying process can be a little more challenging as you have to keep in mind conditions like snow, road salt or even frigid temperatures. As winter begins to ramp up, those factors shouldn't cause you to skip installing a new rug or stair runner in your home. We've put together this quick guide to help you make the right decisions as you prepare for a new carpet project during the winter season:
Staying Warm
One of the perks of having carpet in your home is its insulating capabilities!
It's been scientifically proven by the Georgia Institute of Technology School of Textile Engineering that a thicker carpet provides a higher insulation factor, regardless of the type of fiber. Having it installed with padding ensures further warmth, as it carries its own insulation factor. Installing a carpet or area rug can instantly become the difference maker in increasing the warmth of your home!
According to the UK's National Energy Foundation, flooring can account for up to 10 percent of heat loss in your home if it is not properly insulated. This can easily be solved by adding a rug or carpeting into your space. By having an area rug or stair runner installed in your home, you also can save money on your heating bill by limiting the amount of heat lost. It's a win-win scenario!
Pick out the right fiber material
The winter can be a very messy and cold time of year, especially here in New England. Certain factors like snow, road salt or frigid temperatures can make the carpet buying process a little more challenging.
Winter weather shouldn't be a reason why you skip out on your desired carpet material. If you want to ensure your carpet lasts for as long as possible and can make it through the winter, then you want to pick out the right materials. There are certain materials that can give you peace of mind so you won't have to worry about accelerating the wear and tear of your new carpet.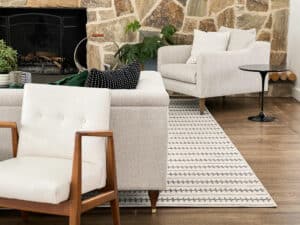 If you're seeking warmth, then we would highly recommend going with a wool carpet. Wool is notorious for its softness and warmth, perfect for those who are looking to stay cozy during the winter! Wool tends to be the most popular carpet material in most homes, which means you're able to find a wider collection of styles to choose from. It's worth noting that wool carpets do carry a higher price tag. If opting for 100 percent wool is out of your budget, you can also go with a wool and synthetic blend. That allows you to gain many of the similar characteristics at a lower price point.
Another great option is to go with an indoor/outdoor carpet. As the name indicates, these carpets are great if you want to style your home's interior, but they are also designed to be placed outdoors. These types of carpets are made with synthetic materials that ensure your carpet will last as long as possible. However, this also indicates that indoor/outdoor carpets are not as soft and tend to be a rougher texture than most other materials. As indoor/outdoor carpets have gained popularity over the past few years, their growing range of patterns, colors and textures have offered more flexibility to create your desired style. They can be customized as an area rug or stair runner, or you can even have it installed as a wall-to-wall project! 
Prepare your Carpet with Green Guard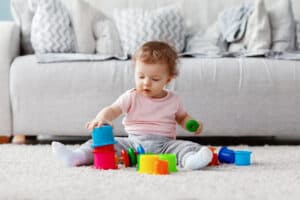 Winter weather can be harsh on carpets, especially with the constantly stormy weather and the rock salt that gets spread out on sidewalks and roads. A great way to ensure your carpet can withstand the damage from all these environmental factors is to have your carpet prepared with Green Guard! Green Guard is a protective layer that can be applied onto your carpet to avoid stains and any other elements that may harm your carpet. This is a perfect add-on for your project to help the carpet survive the winter.
Another great benefit of having your carpet project prepared with Green Guard is that you don't have to worry about picking carpet material that can easily become damaged or stained. Green Guard will give you that peace of mind throughout the winter, so you won't have to worry about ruining your favorite area rug or stair runner. So if the winter weather in your region is holding you back from getting your desired carpet style, Green Guard can able to help protect your carpet through the winter.
–
The winter months can be tricky to navigate if you're planning a new carpet project. If you're still unsure as to what material is best for your upcoming carpet, you can always reach out to The Carpet Workroom for more insight! We will work with you in finding the best carpet material to weather the winter!