We are often asked about options for leather hide rugs and before now we didn't have many options. However, we recently partnered with a leather hide rug manufacturer and we now offer some beautiful and extremely unique options for those of us bold enough to go with hide!
When you think of hide rugs, most people think of the traditional cow shaped area rugs which look great in living rooms or under dining room tables, like I have under mine! They are easy to clean and help bring a more natural look to a more modern space. Here is an example of how natural and beautiful cow hide rugs can look.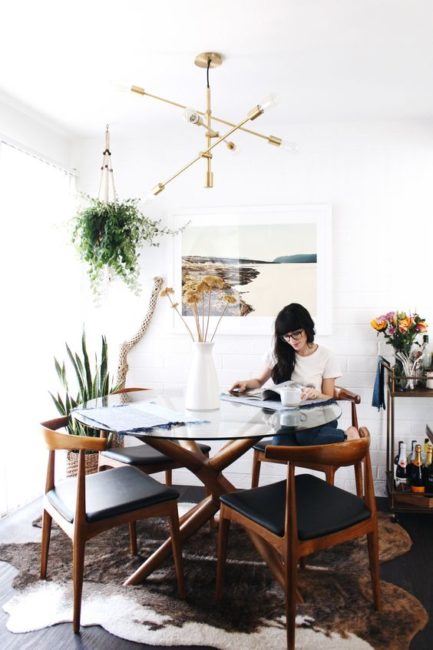 What is great about hide rugs is their durability and stain resistance. All of these rugs are made with natural raw material and has not been strengthened with any other materials. These are high quality hides that have been carefully selected by experts. They aren't great for high traffic places like hotel lobbies, condo receptions or offices but for residential use will last for years. Because they are natural, they are also stain resistant. A simple damp cloth will wipe off most stains, even red wine. They do suggest using a dry towel or paper towel to soak up the stain and to avoid any firmness after drying but this will not affect the overall durability. Maintenance is very simple as well, with light vacuuming and a damp cloth recommended for keeping the rug looking new. According to the manufacturer, "Pledge (or similar product) and a dry rag will make it as shiny as new. No chemicals, no special cleaning processes are recommended, your vacuum and Pledge will work wonders".
We will offer the basics like these natural colored cow shaped rugs, as well as some other unique stenciled and even colored options. Some of the patterned and dyed tiles are a big hit here at the Workroom! Check out some of the photos below and reach out with any questions at info@carpetworkroom.com! We can custom make to any size.