Renovating any part of a house is overwhelming, especially when you have absolutely no idea what you're getting yourself into.  No seriously, we had no idea.  We weren't even looking for a house that needed work, simply because we had no interest in getting our hands dirty.  Yes, that sounds high maintenance, but once we remembered that we were adults and very capable of learning how to do things, it didn't sound too bad.
All I can say is that our "before" kitchen was definitely not what sold us on the house.  At first we were just going to deal with it, but we realized that we should just suck it up, let the house get a little dusty, and make it a kitchen that we actually want to be in.  Coming from a big Italian family, I should probably want to be in the kitchen, right?
We didn't want to do a full scale kitchen renovation just yet. We considered it, but we just didn't think it was necessary.   The appliances are in good condition, recently replaced by Mass Save before we purchased the home.  They don't match, which is a pet peeve of mine, and the fridge is gigantic, but we can deal.
Here is a picture before the kitchen renovation… Try not to be jealous.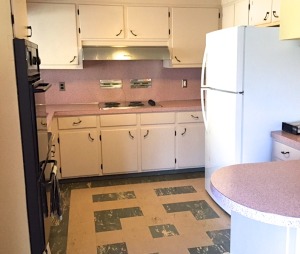 First, you have to have some sort of vision.  If you saw how I dress everyday, you'd know that I prefer black, white, gray, basically any neutral colors.  Too many bold colors in one room overwhelms me.  It's just not appealing or comforting.  You always need contrast or your room may look too bland.  I like simple, clean, crisp colors.  We stuck to that theme for the kitchen… oh and the rest of the house.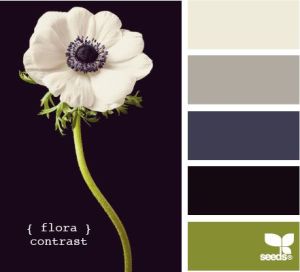 We started with the countertops.  We ripped off the pink laminate that went up  the walls immediately.  The laminate actually didn't come off the countertops because it had been there for so long.  Since we were not going to replace the actual countertops yet, we ended up sanding them down so that we could put new laminate on top.  We purchased gray laminate with a bit of black and white mixed in, cut it to size, and glued it to the existing countertop.  This was definitely a quick fix, however it looks good and a million times better than the pink.  We will definitely revisit the countertops in a few years to upgrade.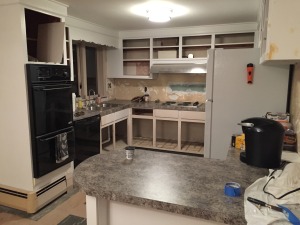 The cabinets were in good condition from the get-go. They were made of our real wood, and had only been painted one time.  They definitely have to be about 50 years old… so vintage.  They have good bones.  It would be silly to replace them when they still have so much potential.  With a fresh coat of bright white paint, these cabinets came back to life.  We also replaced the hardware, from slanted handles to simple brushed metal knobs and pulls.
The backsplash was something I, for some reason, felt very strong about.  Who would have thought?  I am obsessed with white subway tiles.  I knew they had to go in the kitchen.  They actually were fairly cheap and easy to do too.  The trickiest part was cutting them to size in certain areas, such as around the window over the sink.  Other than that, basic enough for us.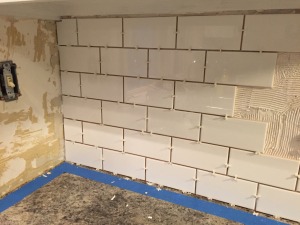 The floor had to go.  I wonder who even thought a Tetris pattern was a good design for a  kitchen floor.   Yikes.  We went with a peel and stick floor from Lowe's, which again was pretty basic to install.  Obviously it was gray.
As far as decor, we chose to go with green as a pop color.   I think green represents clean, natural, and refreshing.  It's a perfect accent color to a kitchen.  We also added a wool rug with a green and black trellis pattern and black binding from The Carpet Workroom.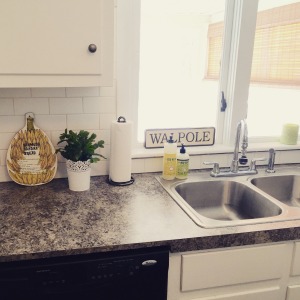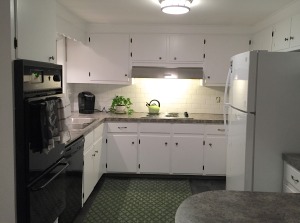 My advice: Don't be afraid of taking a chance with both home and kitchen renovation. If you wait too long, your vision can get blurry.  Just go with it and don't think too much about making the "right" decision.  Keep your focus on the big picture.  Remain patient and know that in the end, it'll be so worth it.
*Special thanks to our "Renovation Tutors", Dad and Chris, who even gave us a tour of Home Depot.