My dad sent me this awesome interview with Emily Morrow, from Shaw Flooring. I'd love to share it with you because I found it very interesting and thought you might too!
To the American family before the 1950s, carpeting was a luxury that was out of reach. Then comes 1951, post-World War II housing boom, and all of a sudden, carpets were accessible, affordable, and desirable. Similar to electric stoves, carpets were a whole new level of comfort and convenience project management tools. That year, the carpeting industry sold about 6 MILLION square yards of tufted wall-to-wall carpeting nationwide. What's even more exciting is that in 1968, the industry sold almost 400 MILLION yards. At this time, carpets were woven. Woven goods were often area rugs, but they also could have been installed wall-to-wall. As sales continued, popularity  shifted drastically to tufted carpet and wall-to-wall installations.
Here are some definitions:
 Woven: Carpet produced on a weaving loom in which the lengthwise yarns and widthwise yarns are interlaced to form the fabric, including the face and the backing.
Tufted: Carpet manufactured by the insertion of tufts of yarn through a carpet-backing fabric, creating a pile surface of cut and/or loop ends.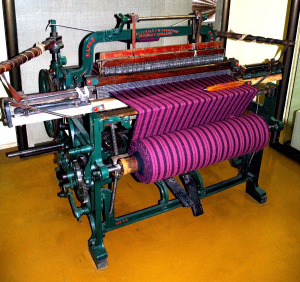 What was the cause for this drastic increase in carpet sales? It was due to this new found interest in home décor. There were tons of stay-at-home moms eagerly waiting to  decorate their homes with products they couldn't get during the war years. Also, technological advances were taking place in the carpet industry, such as tufted nylon. This provided a similar look as the woven wool carpets and rugs. The difference is that nylon is more durable and more affordable.
In the '50s, carpeting was saxony smooth.It was the traditional cut-pile carpet, with fibers standing straight up, and cut to even lengths.
It should come as no surprise that colors tended to be  on the bolder side. This reflected consumers' enthusiasm for this new world of decorating now available to them. In the '60s and '70s, there was a so-called "revolution" in terms of the industry's ability to create new piles and textures. Consumers liked anything hip and new. Tastes were changing due to media. Technology played a huge role in all this, as it does today. By going from black and white to color television, they were able to see into TV homes, where colorful shags or patterned carpet was used.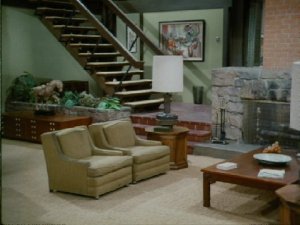 Here is the infamous The Brady Bunch living room that caught everyones eye.
Like most fads, there is always a lull. This lasted from the 1980s-2000s. People were moving even more frequently, so they gravitated towards Hardwood. Homeowners believed hardwood was neutral, luxurious, and would add to their home's value at resale. Fast forward to today and like hardwood floors, the mass market color preferences in carpeting remain in favor of neutral. Although, they gravitate towards a pattern, such as diamonds or blocks.
If you'd like to read the actual interview, here it is.