The Carpet Workroom's New Showroom to Offer Most Elevated Selection Yet
Great news for homeowners, interior designers, and architects across the New England region! The Carpet Workroom — a Boston-based leader in premier carpeting services — is opening a new showroom at Home Design Place in Newton Upper Falls, MA. The Newton Carpet Gallery will feature an elevated selection of hard-to-find luxurious styles, as well as access to The Carpet Workroom's full array of carpeting solutions.
Conveniently located in Newton, MA, , just 7 miles west of Boston and one-half mile east of Interstate 95/128, Home Design Place is a popular outdoor shopping destination with over 66,000 square feet of retail space across three buildings combining local businesses with some of today's biggest names in home decor. The new store's address will be 230 Needham Street, in the middle building between Home Goods and Splash, and directly adjacent to Tulp Outdoor Living.
"With its great selection of top home brands, Home Design Place is the perfect fit for our latest showroom," said Matt Lovetere, CEO of The Carpet Workroom. "Newton Carpet Gallery won't look or feel like your typical flooring store; instead, it's meant to showcase the most unique and high-quality materials you likely won't find anywhere else. If you're looking for something truly unique for your home, this is where to start." The showroom interior design curated by Jess Klein Studios, a local interior designer, our showroom is a testament of the elegant and contemporary aesthetics that can be achieved with our stylish carpet collection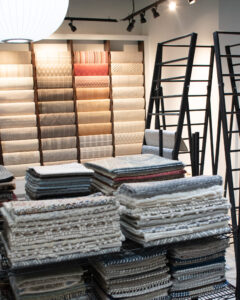 The moment you step into the space you're instantly welcomed by our most stylish and luxurious styles.Offering a complete range of custom carpet solutions including wall-to-wall carpeting, stair runners, and area rugs — from creation to installation — The Carpet Workroom is a family-owned business with over thirty years of experience. Committed to the artistry of woven textiles, they strive to turn each customer's house into a home through quality craftsmanship and the best quality flooring materials on the market. 
"The Newton Carpet Gallery will give customers access to a wide selection of luxurious styles from the most prestigious mills and vendors in the world," said Matt Lovetere of The Carpet Workroom. "Our expert project managers are there to help them choose the perfect materials and design for the vision they have for their home. Then, our master fabricators and certified installers will ensure the new carpet is fit and installed perfectly to the customer's specifications."
Along with the new store, The Carpet Workroom is also excited about their new collaborations with local brands including vintage rug curators New England Looms, interior designer/influencer Kali Branch's KBdesign, and former professional hockey player, current analyst, and podcast host Ryan Whitney's Pink Whitney. 
The Newton Carpet Gallery will be the The Carpet Workroom's third showroom, along with their South Shore Carpet Workroom in Stoughton and the Greater Boston Showroom in Needham Heights. They also serve clients nationally through their online store.  
So The Carpet Workroom can give customers the convenience and undivided attention they deserve, future Newton Carpet Gallery visitors are asked to make an appointment via www.carpetworkroom.com/gallery/ or email (info@carpetworkroom.com).