We started the New Year with many stair runner transformations! January was an incredibly busy month for us here at The Carpet Workroom, which made choosing our January Transformations extra hard!
If you're new here, each month we share a little background information about three projects — the location of where it took place and if there is a reason behind why a specific material was selected. The idea is to provide the story of "before" the stair runner and then showcase the "after" photographs with the runner installed.
We've chosen three of January's top stair runner transformations to share with readers. Let us know what you think about them!
Bold New Zig Zags (Waban, MA)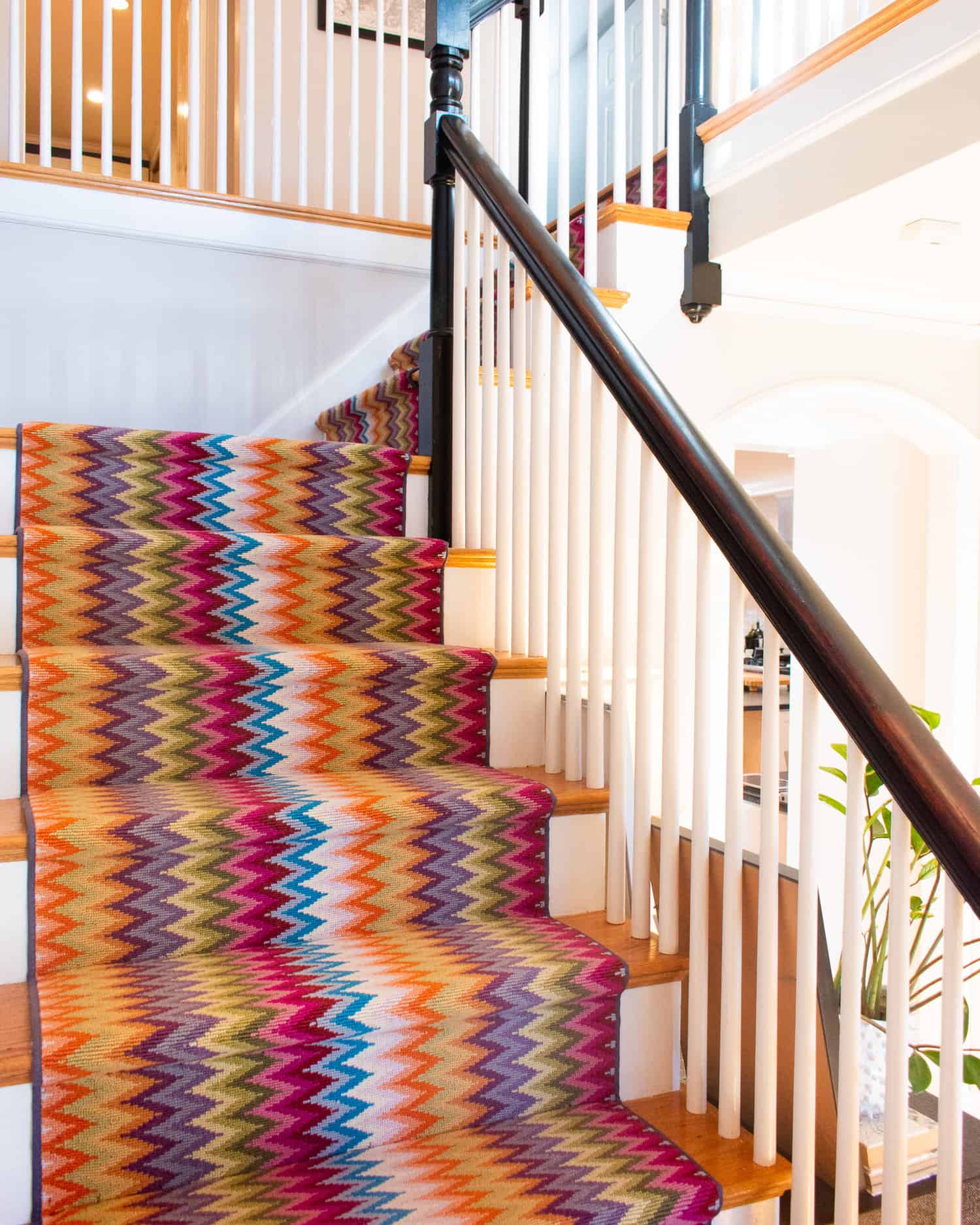 For this project, the homeowner fell in love with one of Prestige Mills' Missoni products. It is a vertical wilton wool, blue and purple, zig zag pattern that is bold, but also unique to add to any home. The product is called "Forlini" and the color used is Cobalt. This brand new home was missing warmth and texture on the floors. Safety was another concern, which is why the homeowners wanted to install a stair and hallway runner.
Their visit to the showroom went great, as they already had envisioned some colors they loved that would work with some furnishings that were already existing in the home. It always makes it easier if the project managers can pull certain styles for our customers prior to their visit in our showroom.
Check out the photos of this fun zig zag pattern running through this home! We love how it came out on the sets of stairs and hallway.
Road Trip To The Green Mountains (Woodstock, VT)
Even though this project is not local, it's a great example of a project that can be done almost completely virtually until it comes to final measures and installation day. Even though most of our customers are from the Greater Boston area, we love working on remote projects that are in neighboring states such as Rhode Island, New Hampshire, Vermont and Maine, so long as they are certain types of projects. For this particular transformation, the customer discovered our Instagram account and reached out to start working on their project. Their first staircase included one landing; their second was a straight set of stairs; while the third was a staircase with one pie turn. Luckily, we were about to provide a quote and consultation without needing to travel to Vermont!
The customer selected styles based on the links and photos that the project manager provided before sending samples for the customer to feel and experience first-hand. This customer selected a flat-woven material called "Old Sorrel" in the color Silver. This is a great product for high-traffic areas, kids and even pets!
When it came time to measure the staircases, our team traveled to the home to measure the staircases and even confirm a few details on site. We then installed the stair runners a few weeks later and it went seamlessly! Check out these before and after photos!
If you're interested in this product and would like more information, please reach out to us via email at info@carpetworkroom.com to get started!
Making a Statement (Easton, MA)
Our  last project this month was local and, again, the customer found us through our Instagram! When they inquired about a stair runner project, we were excited to determine what style they wanted to install. The customer visited our showroom and took some styles home so they could play around with color, texture and styles. They finally landed on one of our favorite and unique herringbone carpet called "Fletcher" in the color "Slate." The homeowner decided to pair the carpet with a bold, black, wide binding, which really pops in that grand entryway! This product is 100% wool, but it is a wilton wool — a fabric we would be cautious about if there were any pets in the home. Wiltons are made of small loops that dog or cat nails could potentially pull and ruin those little loops!
Check out the before and after photos! This carpet really makes the home more inviting and comfortable. Let us know what you think.
To get started on your stair runner project with us, please email us at info@carpetworkroom.com with the following details.
Where you are located

Photos of your staircase, hallways, or space

Style you have in mind for this project (can be screenshots from our Instagram or Pinterest accounts)

The budget you have for this project

Please let us know if there are any pets or children in the home!