Holiday season is officially here! Thanksgiving, Christmas, Hanukkah and New Years are just around the corner.
If you're new here, we feature a "Transformation Tuesday" project each week on our social media. We share a little background information about the project – location, if there is a designer attached to the project, and if there is a reason behind why a specific material was selected. The idea is to provide the story of "before" the stair runner and then showcase the "after" photographs with the runner installed.
We've chosen three of October's top stair runner or area rug transformations to share with readers. Let us know what you think about them!
Accessorize our Stair Runner (Needham, MA)
For this project, the homeowner knew exactly what they wanted on their stairs when they came in for their appointment! They actually already had the straight set of stairs done, and they wanted to bring the same carpet into their large second floor hallway. The material selected is Middleton in the color Nickel. This is a beautiful indoor/outdoor herringbone style that has become very popular this year! It's great for homes with kids and pets, which is why they chose this style initially. Since the hallway was going to be the exact same style and color as the stairs, they knew what it would look like so this time around. This time, they decided  to add a wide binding and nail heads. See below for the before and after pictures.
The first photo seen below is a mock-up of the carpet with the material used for the wide binding and nail heads. The homeowner knew once this sample was created that it was exactly what they wanted on their stairs.
Millie loves her new runner too! The homeowner was pleased that this carpet is kid and pet friendly and that they didn't need to worry much about maintenance and the rug being damaged.
Bright Blue Geometrics (Newton Centre, MA)
For this project, the homeowner selected a bright blue geometric-patterned style and paired the runner with a wide gray cotton binding. The combination is unlike anything we have ever seen before, but we love the outcome. The style "Necker Island" is made of bold, concentric diamonds found on Necker Island. Named for the Virgin Island owned by Richard Branson, this flat-woven's beach inspired palette includes warm neutrals as well as cool, watery hues. The carpet is handwoven of 100% wool and is great for homes with pets and kids. See the before and after photos below. The bright blue combined with the grey wide binding is beautiful combination that we have never done before.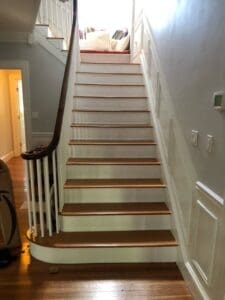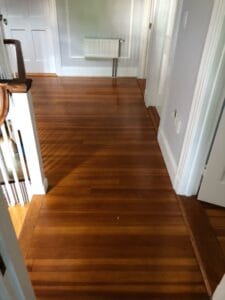 Here is one of our favorite after photos!
Beautiful Execution (Needham, MA)
The third transformation project for this month is a custom stair runner for a homeowner in Billerica, MA. The homeowner worked with Sarah of Sarah Hollingsworth Designs. Sarah suggested dressing up the runner with wide binding and nail heads would look beautiful in this split level home. The mix of the two blues and smaller nail heads pairs well. With this staircase, Sarah and her client had discussed different options for the landing. As many know, homeowners and guest enter right at that door which is centered on the landing. That's considered a very high traffic area. They weren't sure if they wanted the landing to be connected to the stair runner. Instead Sarah and her client opted to make a matching landing loose area rug that could be pulled and rolled up incase of a storm and muddy boots were going to tracking in from outdoors.
Sarah loves to add extra accessories to her projects and she thought this was the perfect project to add a nice rich navy blue wide binding that would show about 1.5-2″ on the actual runner and paired with small nail heads. See the photos below of the binding and nail heads before installation. Also captured is a photo of Steven Ho, our talented fabricator working on sewing the wide binding to the actual runner.
Since this staircase is always walked on, the carpet was treated with our stain preventative, called green guard.
This space is now complete with a beautiful custom stair runner that was completed by us here at The Carpet Workroom.
Are you ready to work on a project with us? Feel free to email photos of your staircase or space, along with some styles you'd like to use as a runner or area rug! Please email us at info@carpetworkroom.com to get started.
If you would like to visit our showrooms, please click this link where you can set up your own appointment!