Whether it's wall-to-wall carpet, an area rug or a stair runner, custom carpets at The Carpet Workroom always undergo a step-by-step process to make sure it meets the customers' expectations. It's during this crucial step where life is given to the carpet or area rug before it's sent out for installation. The Carpet Workroom's fabrication process is designed to ensure that every project is meticulously crafted from start to finish. This all occurs at our South Shore location, where our crew of fabricators are consistently delivering great results. 
When I first stepped into the workroom area, I was instantly blown away by all the action going on. Given that this was a new experience for me, it was interesting to witness the art of the fabrication process. At a quick glance, it just looks like any other workroom or workshop would: a busy atmosphere where everyone is focused on their individual task. As I took the time to walk around and take a closer look at what everyone was working on, I quickly noticed the dedication and expertise that goes into finishing a carpet or area rug.  
The workroom is a unique place to explore. The first area in the workroom that caught my eye was the hard-to-miss the storage shelves where a vast amount of carpet rolls are piled up waiting for customization. The process was fascinating to watch as a lift truck brought down a carpet roll  awaiting its fabrication journey. At this point, the carpet was just a giant piece of material that needed molded to fit the space it would soon cover. With so many components that go into the fabrication process, I was able to take the time to turn my focus on specific steps in the process that caught my attention 
Getting the Carpet Material Ready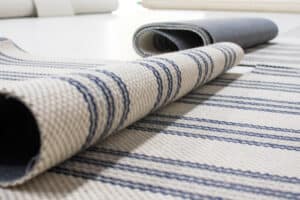 One of the first steps in the customization process is cutting out the carpet material. Using specific measurements  — and in some cases a paper stencil — a fabricator is able to precisely cut out the carpet material. In some cases, the material will be used for wall-to-wall carpeting and  therefore padding must be applied to protect the material over the course of its lifetime. Once the needed padding has been cut, it can then be stitched right under the carpet material. That's when the carpet can move on to the next step. 
Putting Together the Puzzle 
Each project has its own unique constraints. Sometimes, it will take more than one piece of carpet to fit a space. Sometimes, there are unexpected turns in the floor layout. This is especially true with stair runners. Since carpet material lacks flexibility, our fabricators often conjoin different segments to fit the space. Think of it like a puzzle where all these pieces come together to form one single piece.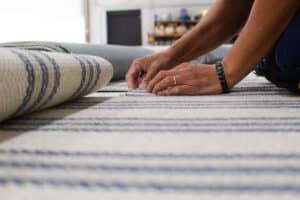 One important detail that I noticed during this stage is that a fabricator can't just grab any two pieces and call it a day. They have to make sure that when these pieces are put together they follow the carpet pattern. That way, once the final product is  installed, the pattern doesn't look lall helter-skelter. This is just one example of the many small details that go into the process to produce a beautiful carpet masterpiece. 
Personalize your Project: 
The binding stage of the process is exclusively for area rugs and stair runners. Along a wall in the workroom area is a vast collection of bindings with different colors and materials. These bindings give our customers the opportunity to get creative and personalize the carpet material to their liking. It's important to note that not all bindings are compatible with every carpet material, so make sure to choose the right binding material in order to avoid any issues down the road. 
The binding material is placed on a machine called a serger, but as you can see in the picture below,  it shares many similar qualities to a sewing machine. Before getting started on this process, our fabricators place the carpet material onto an air floatation table. This allows the carpet or rug to effortlessly move without having to deal with the weight of the carpet material. Once this process is completed, the result is a finished area rug or stair runner that's ready for delivery and installation.. 
The craftsmanship and precision that goes into carpet fabrication is certainly a tedious and time consuming process. Our team of fabricators always are working diligently to ensure our customers receive an exceptional product. 
If you're ready to style your home today, contact us at info@carpetworkroom.com and feel free to send over measurements and photos of your space, as well as any styles that you might have in mind for your project.