Just like the fashion industry has new collections every season, the carpet and rug industry does too. We have featured some of the new Kaleen products on our social media pages. These samples are readily available in our showroom. Personally, I am very excited about the new flatware wool houndstooth. Would love to see this installed on stairs or as a large scale area rug.
Among the new trends in the carpet world, grays and blues are continuing to dominate and the new collections certainly reflect that. In the new collections from Bellbridge, we are also seeing some new fresh, fun colors like salmon and green. This new style would look fabulous as a stair or hall runner or an area rug in a house near the water. The nautical blues and grays are perfect for New England homes.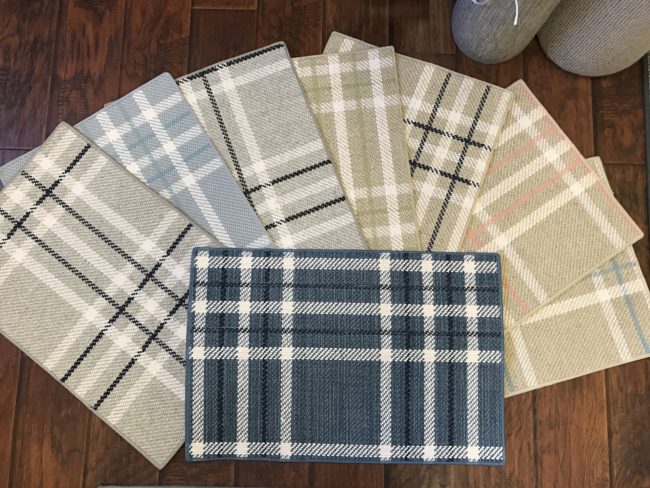 I could see one of these new rugs underneath a simple, clean white couch like this one.
Herringbone has always been in high demand here at The Carpet Workroom. Some new monotone herringbone styles from Bellbridge are sure to be popular for stair runners. The pattern in these new styles is subtle yet stylish and will be a hit for customers looking for warm grays and grieges. These are 100% wool and are a looped flatweave that is extremely durable and will hold up well over time.
Here are some other styles that have come in as part of new collections. All are available in our Needham showroom for borrowing. The materials range from $10-$16/square foot and are all high quality wools from Bellbridge. We soon hope to start installing these in our customers homes so we can share finished photos with you!
As always, please inquire with us about using these new products in your home. You can email info@carpetworkroom.com or fill out a custom request form on our website.