How To Determine The Right Rug Size
The Carpet Workroom is the only rug company that allows you to customize your own rug through our Build-A-Rug Program. You are able to choose your own size, shape, binding. With so many different colors, materials and designs available, it can be difficult to choose the best carpet for your home. There are two things that must happen when initiating a soft flooring project; measure the space and choose material.
Here is our guide on how to determine the right rug size. You can follow these tips to help you out!
For living or family room rugs:
Measure the size of your seating area before shopping and get the closest size from that. If your budget is tight and your room is small you can have a smaller rug that floats in front of all the furniture. This works if your sofa is backed up against the wall because you don't need the extra material under the sofa if you can't even see that its there. But if your furniture is floating or if your room is big, get a larger rug or else it will make the room look smaller and chopped up. This tends to make everything look out of proportion. One of the main functions of a rug is to pull the room together.
If you have a rug that is too small but you love it, then buy a large sisal that fits the whole seating area and layer your favorite rug on top. This can be done with jutes and seagrass rugs too!
Make sure that your rug is at least 6-10″ on either side of the sofa. If the width of the rug is the same as the width of the sofa, it will look too small.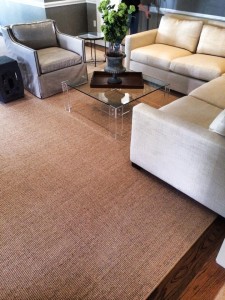 For dining room rugs:
Arrange your furniture before determining your rug size. Measure where your rug will end so the rug does not get caught under the front of your server, sideboard, corner cupboard, or other piece of furniture.
It takes a little more time and energy to find the right rug for your dining space. It should be long and wide enough on all sides to allow for chairs to slide in and out. You also have to watch out for other pieces of furniture you place in the room.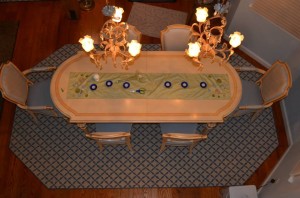 For entry/foyer rugs:
The rug should  fit the space well (the larger it is the warmer the space becomes). It should clean easily because an entry way is a high traffic area. You do not want a high-pile rug.
The rug should carry your style, giving visitors a clue to your home's personality as soon as they walk in the door.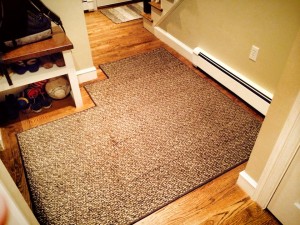 For the nursery:
 If your nursery has hard floors, consider a larger rug with a nonslip backing or pad to keep a crawling baby safe, while also making the room warm and free from unwanted noises/echoes.