Nourison's New Broadloom Collections For 2014
Nourison offers a large selection of premium broadloom, roll runners, and custom rugs for  any style of interior design. Their distinctive carpets are woven from the highest quality materials. Special dyeing effects, hand carving, hand finishing, and luster washing are some of their unique techniques that make Nourison products  stand out. They are the most desirable in the market today.Recently, they debuted  their new broadloom collections last month at Las Vegas' Surfaces, in booth S6413.
Here are some of Nourison's new broadloom collections for 2014:
Starlight:

Starlight is a collection of "minimalist patterns in understated hues". This contemporary-chic collection is sleek and sophisticated. If you add one to your room, it will add elegance.
Nepal:
This Nepalese-inspired pattern is both exciting and unexpected. It has a very mountain-like feel. With designs of jeweled medallions and flame shapes flickering, the muted tones come across as clean. The neutrals feel fresh and pure.
Mediterranean:
The Mediterranean Collection mixes ancient and modern, creating a perfect match for nearly any décor. These feature hand-carved designs.
Beverly Hills:
"Face-to-face woven on state-of-the-art Wilton looms from a luxurious yet lasting wool/PET blend". This broadloom collection has an enduring style and substance. It features a range of chic patterns that are subtle. They are seen as elegant because there is dramatic depth and dimension. Also, the yarn is specially dyed, for an antique effect.
Nu Dimensions:
Instantly update your home with this geometric pattern line. It has an immense variety of colors, which allow you to find exactly what you are looking for.
Providence:
These timeless patterns are offered in neutral colors. They set a warm and inviting mood in any area they live in.
Victoria:
This takes you back to the "lush Art Nouveau era". The leaflike pattern looks  modern in its contemporary palette of neutrals.
Amore:
Add excitement to any style with chic graphic designs, statement-making colors, and shag. Amore broadloom is warm and inviting. The texture is as cozy and comfortable as it is captivating.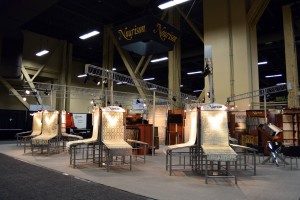 This is a picture of the booth they set up!